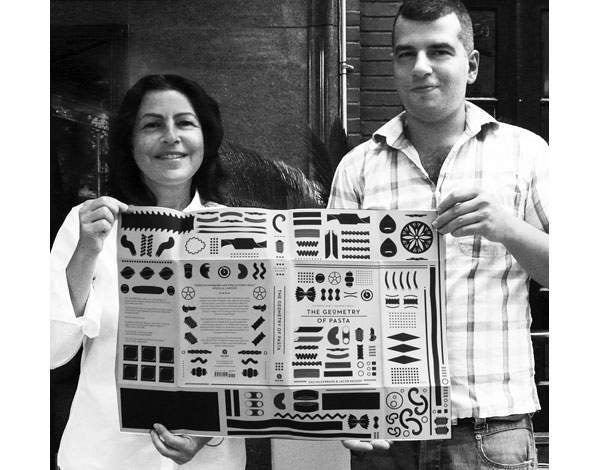 Scarpetta got me thinking about pasta (even more than usual). I make fresh pasta pretty much every weekend with my trusty little pasta machine, so this week I am going to share some of my best pasta picks from books to delis via a big old plate of pappardelle.
When I first started making fresh pasta at home, locating the flour was an utter nightmare. You'd think there would be thousands of places stocking the stuff in the Highgate/Muswell Hill area but no. In Waitrose they directed me to the dried pasta when I asked for pasta flour and everyone else just looked confused as to why I was even asking.
Then I found the Amici Deli in East Finchley of all places. Stocked from floor to ceiling with 00 pasta flour, biscotti and anything else you could want, this place is a gem on an otherwise slightly uninspiring high street. The first time I went in to pick up supplies, the old Italian man behind the counter told me that I must be married, as only wonderful women make fresh pasta and how could such a wonderful woman not be married. I now go in regularly for flour but mainly for compliments.
Now that I have the pasta flour, the next challenge is what to make. There are many options for pasta shapes: we are not just talking ravioli and shells here but literally hundreds of variations – some best bought dried but others perfect for making at home.
I was recently given a copy of Jacob Kenedy and Caz Hildebrand's The Geometry of Pasta (pictured below) and I am obsessed. Not only with the lovely graphic design of the book – strikingly black and white – but the recipes inside. The book covers all of the different shapes and the sauces that go with them. It is hugely informative and full of wonderful recipes; the walnut pesto is a thing of beauty and the tortelloni are simple and brilliant.
This is a book that properly showcases the beauty of good ingredients combined simply and treated with respect. This is an absolute must for anyone who loves pasta.
I admit that you can't always be the wonderful person who whips up dinner every single night. Sometimes you just want comfort food and you want someone else to cook it, bring it to you with a glass of wine and then do the washing up.
If that is what you are looking for, head to Trullo on Highbury Corner. They advertise themselves as serving 'Italian-style' food as the chef isn't Italian. That said, their beef shin ragu, while admittedly not 100 per cent authentic, is utterly delicious – beautifully silky pappardelle with a rich, deep ragu, dusted liberally with parmesan.
It is always on the menu as people complain when it is removed and I can see why. Trullo is a local gem with some lovely pasta dishes – definitely worth a journey.