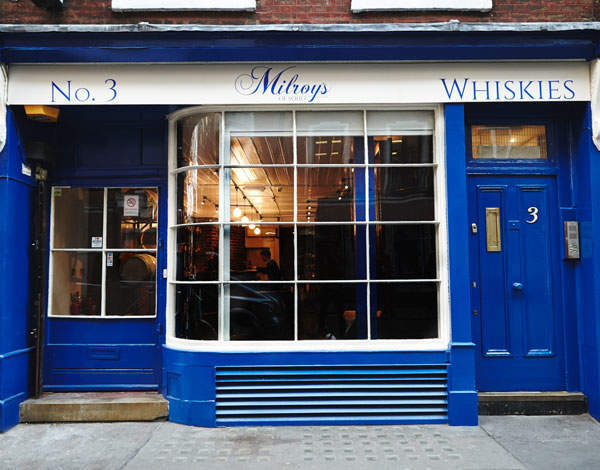 Fridges, mirrors, flowers arrangements and sex shops – there's more than one way to enter a speakeasy. A few years ago I even had to swear allegiance to the anti-Soviet resistance before being admitted into a bar in Ukraine. Thankfully The Vault, the new basement bar at Milroy's of Soho (which re-opened last month following refurbishment), is relatively easy to find, lying behind a not-so-secret bookcase which the staff will happily direct you to.
The problem is not locating the surreptitious bat-den at the back of one of London's best whisky shops, but getting there scotch-free. The upstairs shop has its own bar with a full complement of world whisky that the staff are happy to suggest and shepherd you through.
After a well recommended dram of Longrow Peated, rich in caramelised fruit and fudge but still light enough to retain some floral overtones, chased by an outstanding house IPA infused with Darjeeling, we did finally make it through the book case to The Vault.
The décor is traditional and understated, paying homage to its speakeasy inspiration, underlined by the illicit barrelled snug at the back. Despite it being a school night it was already pretty raucous when we got there. The Neapolitan barman Natalino recommended coming earlier in the week to avoid the crowd but I doubt there are few quiet moments after five o'clock on any night.
The cocktail menu is varied in flavour, concise in volume and refreshingly original. All the bitters, fruits and syrups are made at the bar and are underpinned by a suitably robust selection of spirits that play double bass rather than second fiddle in all these drinks.
We tried the Smoking Gun, smooth, sweet and served in a glass smoked over cedar chips in front of you, and the Colombiana, a sophisticated honey and sherry espresso aristocrat that made its martini cousins look like the cast of Jersey Shore. We also tried the signature Milroy, which is certainly one for winter, a strong, deep, dark whisky mix with natural orange bitter.
We asked Natalino to come up with something 'fruity but original'. The result was a soft lemon and pineapple base with a tequila twist, spiced up and offset by red wine to make the whole thing curiously bittersweet. It was compelling alchemy that we dubbed the Funny Pillow; I can safely say the drink is better than the name.
Hiding your bar behind a bookcase is about a novel an approach as a bad pun in a bar review. However it is something that only adds to the fun, welcoming atmosphere of both Milroy's and The Vault. There is subtle and unpretentious emphasis on good times here and they mix bold and brilliant drinks with passion. Add to that the fact the bar is inside a whisky shop and it's easy to see it as one of London's thankfully not so hidden gems.