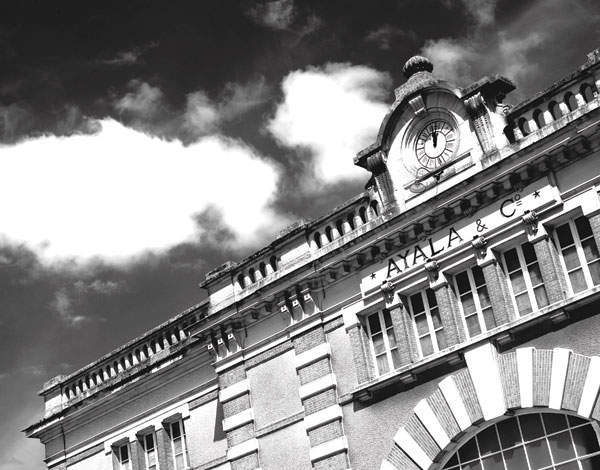 Have you ever fallen for someone's sister? Your best friend's, maybe, or — oh dear — your girlfriend's or your wife's? Well, don't beat yourself up: it happens.
I felt more than a little unfaithful myself the other day. Handed a glass of fizz at a party in London, I was immediately smitten by its frothy, toothsome tastiness. It was delightful, all almonds, honeysuckle and brioche, and bracingly refreshing too. It turned out to be a glass of the recently relaunched Ayala Champagne, and I loved it.
There was absurd guilt, though, for Ayala is sister champagne to none other than the inimitable Bollinger, my all-time favourite fizz. Well, equal favourite alongside Pol Roger. Talk about being unfaithful.
Family-owned Bollinger took over Ayala nine years ago and has put its stamp firmly on the house, installing the dynamic Hadrien Mouflard (previously of Bollinger) as boss and instituting a large number of developments and upgrades. The wines remain very different from those of Bollinger, though, with Ayala's remaining proudly Chardonnay-driven while Bollinger's are resolutely Pinot Noir-based. There's that Bollinger style and attention to detail, though, and clearly some of the stardust too, for Ayala's sales are rocketing.
Falling for the sister of someone you love really shouldn't be surprising. After all, there's something reassuringly familiar there as well as something thrillingly different. And when it comes to wine, if there's a style or an ethos you particularly admire at one estate, it's likely to be replicated at its sibling's, even if the region and grapes are very different.
Take AXA Millésimes for example. It has a number of blue-chip wine estates in its portfolio and although they're too diverse to have what one might call a house style, boasting as they do very different winemakers, grapes, terroirs, climates and so on, there is something similar about them.
'That's because the same philosophy underlies everything we do at all our estates,' says AXA's boss, Christian Seely. 'A great wine is the harmonious, balanced expression of a great vineyard terroir. Be it at Château Pichon, Château Suduiraut, Quinta do Noval or wherever, we are draconian in our selection of grapes, using only fruit grown in the great terroir at the heart of any particular estate. We make far less wine than we did before I arrived twenty years ago, because our selection process is so strict.'
In other words, if you like what they're doing at Pichon in Pauillac, Noval in the Douro and so on, you're going to like what they're doing at Suduiraut in Sauternes. AXA's estates are firing on all cylinders and, as Simon Staples, fine wine director at Berry Bros & Rudd, says of Suduiraut's 2010 vintage, 'Wow! Château Suduiraut is in Château d'Yquem's rear-view mirror this year. It is almost as good and will be a fraction of the price.'
Sister wines might be cheaper than their better-known siblings and might be in a different region or even country. They might share a winemaker or simply an owner and 'house' philosophy as to how things should be done. Whatever the similarities or differences might be, sister wines are well worth a good flirt. If you enjoy the celebrated Château Rauzan-Ségla in Margaux, for example, why not try its similarly priced sister estate in Saint-Emilion, Château Canon? And if you admire the silky smooth burgundies of Maison Joseph Drouhin, you should taste the exquisite wines they're making in Oregon. Or sample the Australian wines of Michel Chapoutier and the Moroccan wines of his fellow Rhône legend, Alain Graillot.
No need to feel too guilty: at least you're keeping it in the family.
Notes from the Nose
Ayala Brut Majeur NV
(£29.99, Waitrose)
Ayala, founded in 1860, is one of the original 26 Grandes Marques Champagnes. It is the sister house (and neighbour in the small Grand Cru village of Ay) of the mighty Bollinger and has been wholly owned by the Bollinger family since 2005. Ayala was revamped and relaunched in 2014 with stylish art deco-inspired packaging and tastes absolutely fabulous. The Brut Majeur is fresh and elegant with fine mousse and delicate notes of honeysuckle and brioche and, being Chardonnay-dominant, complements perfectly the Pinot Noir-driven style of Bollinger.
2011 Joseph Phelps Freestone Pinot Noir, Sonoma Coast
(£36.56, Private Cellar)
Insignia from Joseph Phelps is a true blockbusting California Cabernet icon which more than holds its head up among its illustrious Napa Valley neighbours. Less well-known are the Joseph Phelps Sonoma Coast wines. Made by the same technical team that makes Insignia, with the same expertise and philosophy, these wines certainly deserve a wider audience.
The rich, ripe blackcurrant/blackberry fruit of the Freestone Pinot is kept in check thanks to cooling breezes off the Pacific and, although concentrated and luscious, the wine is structured and complex. No wonder it's served in first class on BA's transatlantic flights.
2012 L'O de la Vie, Minervois
(£14.89, Goedhuis)
Jean-Paul Tollot and his partner Anne Gros have been making wines in Burgundy for over twenty years at their respective domaines — Domaine Tollot-Beaut and Domaine Anne Gros — and are justly celebrated for the tip-top quality of their wines.
Intent on working together, however, they recently raised their fellow Burgundians' eyebrows by branching out to the Languedoc. Here they make the Carignan/Grenache 'Les Carrétals', the Carignan/Grenache/Syrah/Cinsault 'Les Fontanilles' and this deep, concentrated but exhilaratingly drinkable 100 per cent Syrah, 'L'O de la Vie', the most precocious of younger sisters.
2010 Château Suduiraut, Sauternes
(£69, Berry Bros & Rudd)
AXA Millésimes, the vineyard-owning arm of AXA Insurance, boasts an enviable portfolio of estates and Château Suduiraut has some mighty fine siblings, including Château Pichon-Baron in Pauillac, Château Petit-Village in Pomerol, Domaine de l'Arlot in Burgundy and Quinta do Noval in the Douro Valley.
Under Christian Seely's stewardship, Suduiraut has joined the first rank of Sauternes and the 2010 is an absolute belter, with pure, lusciously sweet exotic fruit underpinned by a refreshing, clean acidity. It will keep, of course, but it is pretty much the perfect sweet wine right now.
2012 Le Difese, Tenuta San Guido, Tuscany
(£17, Armit)
Sassicaia, first wine of Tenuta San Guido, is one of the great wines of the world, the original so-called 'Super Tuscan', put on the world stage by Nicola Incisa della Rochetta. Today, Rochetta's stepson, Sebastiano Rosa, is in control and the estate goes from strength to strength.
Although the original vineyard was planted with Sangiovese, Sassicaia is — famously — a blend of Cabernets Sauvignon and Franc. Le Difese, however, made by the same team, is a blend of Cabernet Sauvignon and Sangiovese and is ripe, succulent, silky smooth and laden with herbs, plums and blackcurrant spice.
2011 Saint-Joseph, J-L Chave
(£35, Yapp Bros)
Domaine Jean-Louis Chave in the northern Rhône has passed from father to son since 1481 and the estate is revered by wine lovers for the powerful, concentrated, masculine Hermitage it produces. The family has also long owned vineyards in the neighbouring, but less well-known, appellation of Saint-Joseph and there produce exquisite wines of real depth and intensity, also from 100 per cent Syrah.
These shouldn't be viewed as substitutes for Chave's spectacular Hermitages, but as fine alternatives — made with the same loving care and attention to detail — and as the perfect introduction to a star Rhône winemaker.