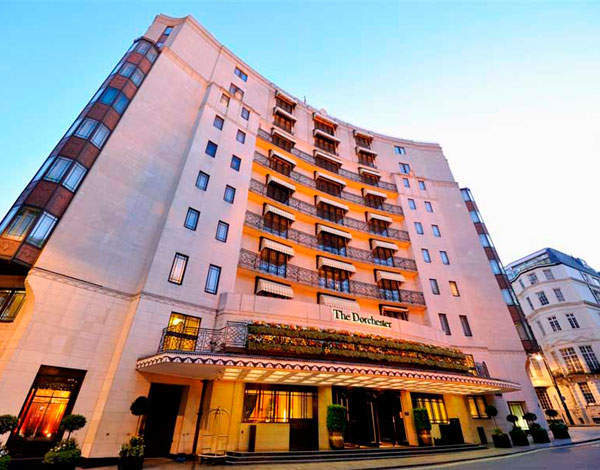 As that very catchy Ikea advert said 'you always end up in the kitchen at parties'. Although I doubt the Dorchester Collection have even a hint of Ikea in any of their properties they seem to have taken note of this as last night's Dorchester Collection Cocktail party was held in the sparkling kitchens of the Dorchester on Park Lane.
Over 100 guests, comprising representatives from the collection's hotels and journalists – including the highly manicured ladies of Porter and Vanity Fair – donned personalised aprons and mingled with the chefs of 45 Park Lane, China Tang, Alain Ducasse and The Dorchester. From beautiful peking duck pancakes to CUT at 45 Park Lane's signature spiced ahi tuna cone with miso guests were able to sample the cuisine of all four kitchens at once as well as talk to the chefs and enjoy a glass of Laurent-Perrier.
At the far end of the room the staff had constructed a 'German Sushi Vending Machine' in honour of their German head chef, Henry Brosi. It was made clear to me that this German vending machine ran according to very strict guidelines – i.e. it always delivered the exact same plate of food (via a white gloved hand). Nice to see that even in such a revered establishment there is a sense of fun that accompanies the food.
At this point you might be wondering why I am telling you about an event is not open to the public. I have good reason – you can now experience this too. The private dining room tucked just to the side of the kitchen, with a floor to ceiling glass wall, already offers great access to the heart of this busy working kitchen. However, if that isn't close enough for you they are now offering kitchen parties here too.
Between 50 to 120 guests can come and grab a drink, sample some wonderful food from the four Dorchester Restaurants in London and generally interact with the kitchen staff as they (the guests, not the kitchen staff) party at the pass. Head Chef, Brosi, is even giving up his office during these events so that it can be converted into a DJ booth. It isn't cheap with private parties starting at £22,500 but what an experience.
To make a booking or request more information on private dining please contact Banqueting at The Dorchester on +44 (0) 20 7319 7071 or email groupandeventsales.TDL@dorchestercollection.com