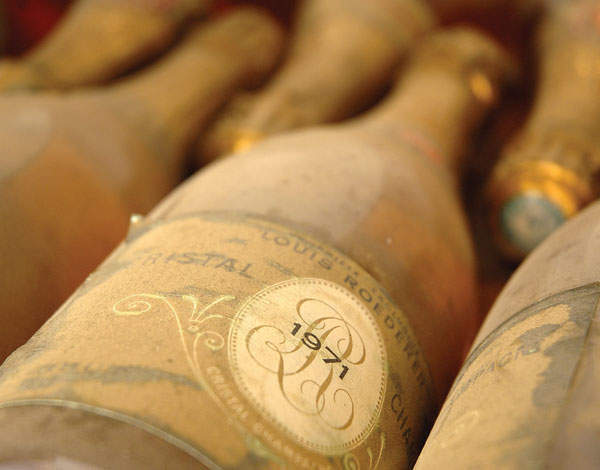 Louis Roederer Cristal was originally created for Tsar Alexander II of Russia in 1876. Worried about assassination, the Tsar commissioned a flat-bottomed bottle in clear glass, a departure from the usual dark green, so that no explosives could be concealed. Since then, the distinctive bottle, cellophane wrapper (to protect the champagne from light) and gold label have continued to define Cristal's exclusivity.
So I am feeling both privileged and smug to be sipping 2006 Cristal in the Roederer family château in Reims and talking to Frédéric Rouzaud, the current head of the house, about how his brand maintains its mighty reputation despite producing only 3.5 million bottles a year — 1 per cent of the global market.
The house was founded in 1776 as a tiny négoce du vin by Etienne Dubois and sold in 1819 to Nicolas Schreider, an uncle of Louis Roederer. Roederer joined his uncle, became an associate and inherited the house when Schreider died in 1833. It has stayed within the family ever since. Rouzaud began working for the family business in 1996 when his father Jean-Claude was at the helm, and he took over ten years later.
'My father is still company president but he's no longer involved,' explains Rouzaud. 'He's even moved to Paris so as not to be tempted to interfere in the daily running of the business. He's very clever and intelligent and thanks to him I have freedom. We like freedom in our family — we were founded the year the United States was born, which unconsciously explains why the Roederer soul is still in love with liberty, independence and creativity.' (Very unconsciously, I'm guessing.)
Such fancy sentiment masks tough business acumen stretching back generations. 'At one time the house was exporting nearly a quarter of its champagne to America and 600,000 bottles to Russia. Then came the Russian Revolution, followed by Prohibition and the 1929 crash,' explains Rouzaud. 'Exports were slashed and between the wars the house faced its worst period ever. In 1932 my great-grandmother, Camille, inherited the estate when her husband died. Though we were nearly bankrupt, she used her character, energy and creativity to keep the house alive.'
She did and Roederer continues to grow. In 1982, Frédéric's father bought 580 acres in the Anderson Valley in California and created the Roederer Estate. This was followed by the purchase of Deutz Champagne in 1993 and Château de Pez in Bordeaux in 1994. Today Roederer's cellars in Reims stretch for seven kilometres and I was taken along dim oak-lined corridors to the impeccably ordered vaults. In the cool gloom, the rows of golden bottles glisten richly.
Rouzaud greets me in a lavishly furnished sage and tangerine drawing room, decorated with ornate screens and Chinese porcelain, and we move into the kitchen for an informal lunch. On the walls are photographs of Elizabeth Taylor, Yves Saint Laurent and Brad Pitt, part of a five-million-strong photographic collection built up by the Bibliothèque Nationale and supported by the Louis Roederer Foundation.
The subtle opulence, air of high culture and strong sense of heritage that surround Rouzaud feel removed from the boisterous, in-your-face world of rap. Yet it was from rap that Roeder's most significant recent challenge arrived. During the late Nineties, rappers were frequently photographed with bottles of Cristal and it was referred to in the lyrics of Puff Daddy, 50 Cent and Jay-Z, who often referred to 'spillin' it'.
It was the spillin' rather than the imbibing that lay at the root of the spat in 2006 when an Economist reporter asked Rouzaud whether he thought Cristal's association with the bling lifestyle could harm the brand. Rouzaud had already said Roederer was observing rappers' penchant for Cristal with 'curiosity and serenity' and now answered: 'What can we do? We can't forbid people from buying it. I'm sure Dom Pérignon or Krug would be delighted to have their business.' Immediately Jay-Z rapped for a boycott of Cristal: 'I used to drink Cristal, them fuckers racist,/ So I switched gold bottles onto that spaceship… I don't get dropped, I drop the label.' He did more than 'drop the label' — he started promoting the Ace of Spades brand, produced by Cattier and sold in gold bottles.
'I was branded a racist, which was ridiculous,' says Rouzaud. 'Of course I had no objection to Jay-Z buying Cristal, but I did say I'd prefer him to drink it rather than chuck it all over a girl. Jay-Z used the row as a publicity stunt to launch Ace of Spades.' Launch it he did, in his music video for Show Me What You Got, in which Cristal is dismissed in favour of Ace of Spades.
Jay-Z seems an unlikely nemesis for Rouzaud, who remains unperturbed by the competition from Ace of Spades, insisting that quality rather than market share drives the brand. 'We're people who really understand champagne,' he says calmly. 'We don't produce Cristal every year — this 2006 we're drinking was aged for six years. With great wine you need time. Other growers are buying up whole vineyards, but for us it's not about quantity but quality and we only buy maybe three hectares a year.
The key for us is to think long-term. If you want to expand fast you need to be part of a big luxury machine like LVMH, and we don't want that.'
He will not be drawn on whether there have been any approaches, and when I ask again how the brand has managed to resist any buy-out he will only say: 'Louis Roederer is still independent as all the big groups know perfectly well that it is not for sale.'
He attributes Roederer's survival as a family business partly down to its unique 'plot-by-plot vinification'. The family's 240 hectares of vineyard are divided into 410 plots and each does its own pressing from harvest, to ensure quality and give every wine its separate character — no other champagne brand does this.
Rouzaud admits that in his twenties he rebelled against joining the family firm, but today he is driven by a keen sense of duty: 'For all the grand plans I may make, ultimately it's the details that need fine-tuning to keep our champagne exceptional or it will diminish in quality and become standard. My duty is to invent the brand's style and quality for tomorrow that's different from twenty years ago but just as good. My mission is to keep the brand like a jewel.'
That means nonchalance about sales and a resolute focus on excellence. When I check with Claire Martinot, who handles Roederer's PR, about Roederer's 1 per cent share of the market, she says: 'This is not information we usually talk about.' Yet ask Rouzaud what accounts for Cristal's global reputation and his answer is exuberantly flowery: 'All its elements are in line and it's the ultimate expression of balance in the world. It has a magic you can feel and a value that carries — culture, aestheticism, a way of life. It makes people happy.' These are not qualities that Rouzaud believes could thrive outside a small, fiercely protective and nurturing family environment — and so there it will remain for the foreseeable future.
Charlotte Metcalf is a writer and documentary film-maker