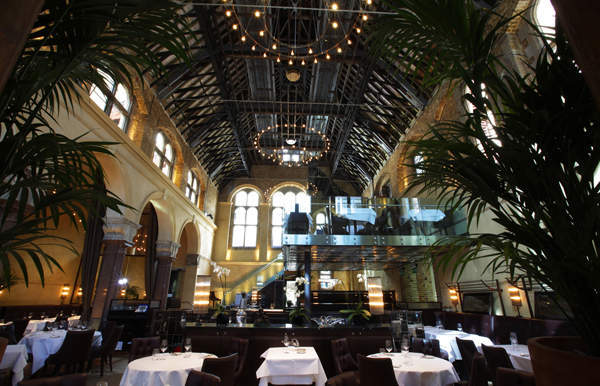 'Concierge' has almost become a dirty word in London. So many firms are offering the service that is seems to have cheapened the concept. We all know that a good concierge service – like those you find in The Connaught or Claridge's – will be second to none but when we think of 'lifestyle concierge' we often have a niggle in the back of our minds that we are getting a bit ripped off, that surely it can't be that hard to book a table in a restaurant or get access to a show.
Sometimes, though, it is impossible. Don't even attempt a walk-in at any of London's top restaurants – they have been booked up for months. Anything off menu, off-piste or off the cuff is a no-go most of the time. This is when it is actually of use to call in the experts.
Ten Group has been looking after the needs of their clients since 1998, working closely with restaurants to ensure they can gain access to the usually inaccessible. Restaurants reserve their cancellation places for Ten's customers as they ensure zero no-shows and their clients tend to spend much more on wine than regular punters; we all know that wine is where the money is in restaurants.
So, what might a demonstration of this expertise look like? In this instance, a gut-busting five hours in five of London's top restaurants. We started at Angler (pictured below), the South Place Hotel's Michelin-starred fish restaurant, where head chef Tony Fleming talked the table through how to make their signature tuna tartare. From mixing the dressing to plating up, everyone was able to join in before tucking in.
From tuna to duck at HKK by Liverpool Street. In the private dining room of this exquisite Chinese restaurant we learnt how to carve traditional crispy duck using frightening large knives. I'm told the health and safety headaches were numerous. To have such expert tuition in the middle of a lunch service was impressive – as was the duck we were eating.
On then to Galvin La Chapelle in Spitalfields (pictured below) to eat crab lasagna with Chris Galvin, overlooking the rest of the room from their mezzanine private dining area. Galvin sees London as the new centre of food; it has overtaken New York to become the most vibrant dining scene in the world.
And it really is – you can move from fine dining to street food seamlessly. We, on the other hand, moved seam-bustingly on to Hawksmoor for a tour of their kitchens in Guildhall and a steak lunch, of course. Hawskmoor is frequently lauded as the best steak in London and experiencing the blistering heat of the grill makes you even more appreciative of the work their chefs do.
Laden with cookery books and slowed by four lunches we finally moved to Searcys right at the very top of the Gherkin (pictured top) in time to enjoy cocktails as the sun set over London. This was a whistlestop example of the access you can get if you know the right people – or if you pay people who know the right people.
Food and restaurants are the new bragging points of social conversation. If you haven't eaten at Kitty Fisher's yet or had a private demonstration from a top chef, you lag behind in the social stakes. It is no longer enough to have the money to buy the dinner, you now need the influence to get the table in the first place. And that is where companies like Ten Group come in.