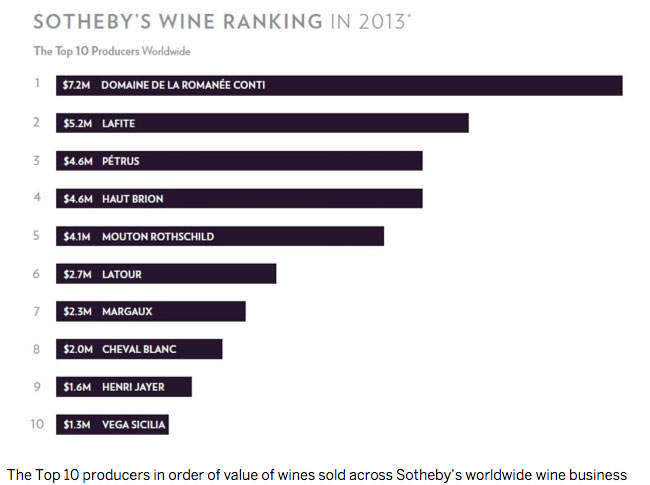 Some people rank wines by Parker points, others by the intensity of the hangover. Sotheby's, perhaps unsurprisingly, ranks them by money, and in its first Wine Ranking Domaine de la Romanée-Conti came top.
Read more on food and wine from Spear's
The list shows the top ten producers 'in order of value of wines sold across Sotheby's worldwide wine business', which includes both auctions and retail. Romanée-Conti made $7.2 million, trailed by Lafite ($5.2 million), Pétrus ($4.6 million) and Haut Brion (also $4.6 million).
Sotheby's sold $57.9 million of wine at auction in 2013 and its top lot was $168,000 for a case of Château Latour à Pomerol 1961. Asian buyers dominate as 62 per cent of purchasers at auction, while Europeans are only 17 per cent.
Hong Kong is the global centre of wine auctions today; in November 2013, a record was set when a bidder paid $474,000 at Christie's Hong Kong for twelve bottles of Romanée-Conti.