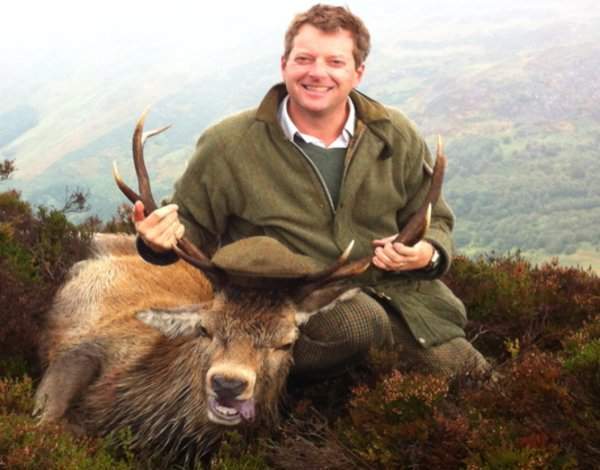 It was my birthday, but no London restaurant celebrations for me. We got into the car and drove to Perthshire, from where I write, currently trying to keep my eyes open after a successful day out on the hill breathing in the sleep-inducing Scottish air.
Successful, because we came back with a wee beastie. Actually not so wee: fifteen and a half stone, with a ten pointed set of antlers and whose teeth – size and wearing – suggested he was about twelve years old.
We had walked across the moors, plodding through boggy marshes and sidestepping heather, surrounded by fog, which swirled around in the valley below us and then cleared, revealing a vast, lush valley, but more crucially – some 200 yards in front of us – a herd of red deer.
We ducked down onto the ground, I was being led by our able stalker Hamish, and crawled to a ridge where, below, we spied a dozen hinds.
Hamish readied the rifle as I quickly sidled into position and a stag duly emerged, taking up the rear of his herd. 'Take the shot,' Hamish whispered.
Ready, aim…
I moved the crosshair to the correct part of the stag's body – just behind the shoulder, straight at the heart. I held my breath and squeezed the trigger.
The bullet thudded into him and down he fell.
Two hours later and I watched the stalker and ghillie butcher the animal in the lodge's game larder, removing the upper parts of the legs and head.
The cull was duly recorded. Taking the more elderly beasts off the hill helps to ensure the younger stags' survival. And the culling of hinds, a little later in the season, means there won't be too many deer vying for food. Oh, and they taste good too, and you won't find a more sustainable, leaner, healthier meat, with better standards of welfare.
The meat will be sold to a local dealer and might end up on the shelves of a food store or supermarket near you. Roast venison anyone?
Dishy
Meanwhile, the hinds left alone on the hill would quickly find a new stag to lead them and I'd be in the bath contemplating dinner.
Which started like this: soft and tender beef carpaccio, gently spiced with long flecks of red chilli. And then a dish I'd never heard of.
There I was thinking all new culinary experiences take place in London. For lo and behold, on the occasion of my birthday dinner, I was served Sole Anatole. It came on a large dish, with a browned top. Beneath the crust lay a soft soufflé mixture, and below that: lush and tasty sole.
I ventured later into the kitchen to discover more about this dish. The giant, cheesy, fishy soufflé was, according to the chef John Anderson, passed to him from a cook in Portugal.
John is a discreet man who guards his recipes as closely as did the master cooks of ancient English kings and nobles. He wouldn't wish his dishes to end up in the hands of his culinary competitors. And neither would my hostess. After all John is a man eyed with envy throughout Scotland. Guests at many of the smarter Scottish dinner parties often poke their head around the kitchen door to see if John Anderson might be at the stove.
Ironically Anatole was the name of the skilled French chef employed by Bertie Wooster's Aunt Dahlia. Many who ate at her table attempted to steal him to work in their kitchens. She guarded his employment fiercely. It is the same with John Anderson who lives in an eternal culinary tug of love as every posh Scottish family vies for his talents during their Christmases and holidays.
Fortunately my friends had him in their employ and he was going to no more offer me the secrets of his Anatole Sole than my hostess was going to furnish me with his mobile number.
So I wolfed up second helpings of Anatole's fishy number along with asparagus (yes, unseasonal shock horror tactics) and curly, crispy bits of potato.
Pudding was chocolate and Amaretto cake, topped with candles, whose deep and rich filling is another reason why we stride across misty moors for hours up here.