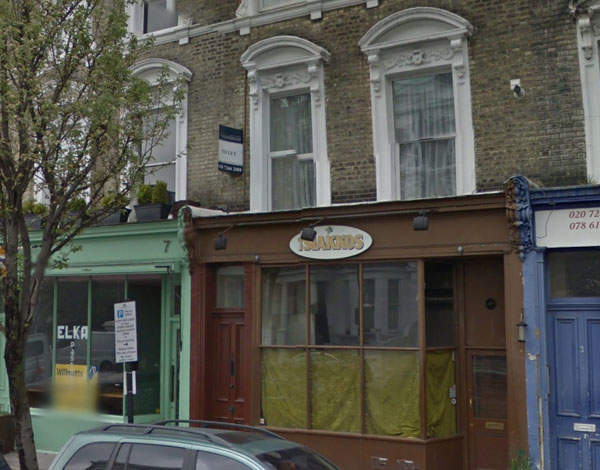 'Please don't tell everyone about this place,' my friend pleaded as we nestled into a long and wonderful lunch at Tsiakkos & Charcoal (on Marylands Road, Maida Vale, just off the Harrow Road – phone 0207 286 7896 to make a booking).
'It's my favourite local and it's the secret food haunt of loads of chefs.' She looked at me, her face weighed down with sigh. She knew this was one secret I would not keep. Because this restaurant is wonderful and you need to know about it. And, anyway, on the day we went, although we were a party of about 15, there were plenty of free tables. So my friend and her cheffy mates will still get in there.
Tsiakkos is the sort of place that Russell Norman tries – and is pretty successful at achieving – to emulate in Polpo. It's rough, raw, casual beyond belief, grungy, dark, haphazard (the décor, I mean) and you cannot fail to have a great time. But this is the real deal; raw, scruffy and perfectly aged.
Read more restaurant reviews by William Sitwell
The owner – a man with a big tummy, baseball cap, beard – works with a chef (who plays computer games by the front door between courses) and one other lady.
The place from the outside gives every impression that it closed down long ago – as long as it's been open, in fact, some 17 years – and there's material attached to the lower windows (you'd struggle to call them curtains). In fact, it looks almost as shut up as the place next door whose shop front is plastered with old newspapers.
But open the door and you'll see this place is more than alive. There's a big charcoal grill on the left and at the back tables. There's more room outside in a back garden under cover, OK in the summer, no doubt, and handy for smokers.
The owners are Greek-Cypriot and I can't recall eating better Greek food. And I love Greek food. I've dwelt on islands for months (live not being quite the word) and have thrown back more tsatsiki, grilled chicken, roast lamb (or 'lamp in the oven' as one favourite taverna preferred to advertise it) and Greek salads, not to mention glugged more Retsina than should ever be strictly necessary, than most.
So here's what they dolled out. There were plates of wonderfully textured taramasalata (not all supermarket smooth and over-sweet), chunky, rustic hummus, and teeming piles of Greek salad with huge chunks of feta (not those little diced itsy bits you usually get) and freshly tart tsatziki.
Next came grilled chicken pieces which were so tender and soft within we frowned and said things to each other like 'how is it possible to char the surface, cook it enough and make it so soft to eat?'
The main man said he simply marinated it in lemon juice and garlic. There was grilled pork too and then came plates of lamb. This had been cooking since breakfast and fell off the bone among browned rice. God, it was good. There was the faintest hint of cinnamon; it was rustic heaven.
Next came plates of big sea bream, which we felt a little forlorn about, so stuffed we were. But a few mouthfuls showed the man can cook fish too.
They had no Greek wines, sadly, and needing refills, if the guy was out having a fag you could just grab another bottle from the fridge. It's that kind of place. We finished the day with great cups of sweet and slightly gritty Greek coffee.
And the bill was as awesomely good value as the food was delicious. Join the stampede, I'll be with you. And I'm not apologising to anyone for letting the cat out of the bag. We all need to eat at and appreciate places like this.