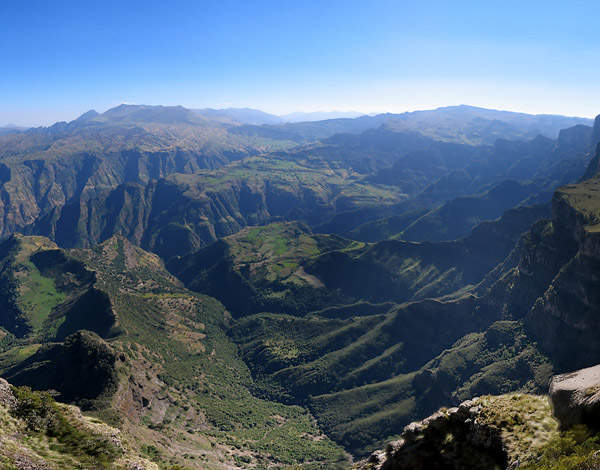 Next time you find yourself trekking through the Simien mountains of Ethiopia (pictured below) – who knows, possibly raising funds for Camara (the excellent charity that installs used computers in schools across Africa) – and you are confronted with breakfast choices, take my advice: go for the omelette. In fact go for the omelette at all meal times. But do not ever ask for an egg sandwich, unless you want an omelette sandwich.
Ethiopian food is a great deal less lush, verdant and colourful than its landscape. Flying over the countryside, the haphazard patterns of green fields and lighter browns – suggesting crops such as barley growing or acres recently cut – is a far cry from the barren, famine struck Ethiopia of 30 years ago, as heralded by Michael Buerk in his report that famously led to Live Aid.
In fact, on average, Ethiopia has as much rainfall as London.
But back to those omelettes. The best I ate was at Addis Ababa airport, at dawn one morning about to fly to the town of Gonder. It came light and fluffy, with a gooey centre – and flecked with green chilli and tomato.
The coffee was excellent too, rich and tasty. It was a great deal better than the traditional platefuls of Ethiopian food I endured. The typical being a spicy dish of meat – lamb, beef, goat, something else, who knows – that would be inedibly tough and comes with injera, a flat squidgy flatbread. The latter often comes rolled up and is grey in colour. There is only one thing that it instantly reminded me of, and that's underlay.
You know, that bunjy stuff you put down before laying a carpet. It is springy in texture and you don't feel like tearing off a strip and dipping it in chillied beef. The same is true of injera.
There was the odd decent curry actually – particularly in a restaurant in Gonder – and there was a wonderful shepherd's pie served at a restaurant in the hilltop town of Lalibela (about which I will write more on a future occasion – save to say the owner is from Lanarkshire and her restaurant has possibly the most amazing views in the world).
So back in London I was keen to remind myself how the locals here knock out a good omelette. I had breakfast in One Leicester Street – whose cool little bar is well worth a visit. While the Ethiopian omelettes were generally flat and sometimes nearly circular things with burnt edges, here was a rolled thing of fluffy perfection. There must have been about four eggs used and Elizabeth David could not have bettered the example that arrived in front of me.
Rolled up, some eight inches long it had just enough of the runny stuff and was brightly yellow. For added savoury piquance and flavour they grate some Berkswell cheese.
I should have been bold and asked for some green chilli and tomato and I would have unlocked the door to omelette heaven.
My other favourite dish this week was the cabbage I had with some fish – a soft and lovely piece of halibut with a bit of lobster underneath – at Boisdale in Belgravia. Shredded,it comes with a splash of rape seed oil. Get a bowl of it next time you're there and then order the chocolate cake with honeycomb ice cream. I love Boisdale, partly because of the dangers that lurk there… there's something about it that makes you want to settle in for a very, very long afternoon.