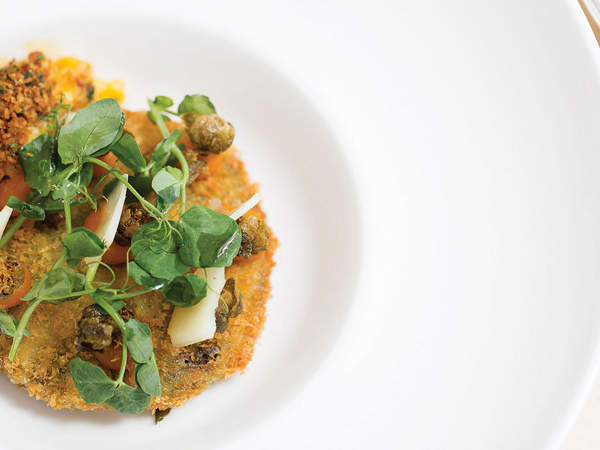 This is what Cornelius Gurlitt's sitting room should have looked like. But no, his hoard of art was stashed around his grotty Munich apartment next to tins of noodles and rotting fruit.
Still, the art on the walls of Berners Tavern, which I hilariously call the Bernie Inn, is not bad. Floor to ceiling and framed in glinting gilt, it includes some wonderful photography by Simon Brown, whose haunting images of decaying romantic houses and Dutch master-like bowls of fruit is just another reason to visit.
But let me state something up front. This is the most staggeringly impressive, hugely beautiful and masterfully designed dining room I have ever seen. I imagine it must be like one of those early 19th century taverns, the first examples of smart restaurants that popped up in Paris and London.
There was John Farley's London Tavern in Bishopsgate, for example, which could seat up to 2,500 people at one sitting. The concept was honed by the French restaurateur Antoine Beauvilliers who opened his La Grande Taverne de Londres in Paris.
But these would have been scruffy places with few choices on the menu.
Pictured above: Executive chef Phil Carmichael
Fast forward some two hundred years and Jason Atherton delivers a tavern without peer. This place elevates Atherton to towering legend. Everyone should visit this place, and if you can't get a table just look at the room. And then poke your head through the lobby of the London Edition hotel, in whose building the restaurant resides, and pop into the Punch Room, a kinky little den of a place that dishes out a daily punch.
Meanwhile those who are dining, having done the wow bit and more wow bits after spotting the backlit wall of booze behind the bar, are in for a treat.
Atherton's ability for playfulness, which I never really did quite appreciate at Pollen Street Social, delivers a more straightforward menu here. Well, straightforward for Atherton, whose technical ability shines through a whole list of very original dishes that celebrate British ingredients in the most exquisite way I have experienced.
The menu is big but the waiter pushed us towards some great choices. Lamb breast (pictured below) came as a sort of little cake and was served with a saucepan of fregola. This is a peasanty type of Sardinian pasta, the sort you'll get at Francesco Mazzei's L'Anima in the City. But Atherton does something extraordinary with it – it comes meltingly gooey, deep, rich and amazing with a scattering of marrow crumble.
We took spoonful after spoonful of it and just sat back doing those wow looks and noises that were becoming a bit of a habit by this point.
We had a big duck egg too with the best mushy peas I've ever had; and I've always shied away from them.
This was followed by a simple sounding plate of pappardelle. It came with a game ragout – a mixture of everything you might be able to kill on a successful day on a Perthshire moor. You could call it pasta MacNab – if you know what I mean you'll know what I mean.
The man opposite me was cooing about his duck, by the way. He kept on proffering me bits of it so I could share his ecstasy.
Pudding was a donut filled with chocolate. It was pretty damn good. There was a cinnamon sugar coating – not too much cinnamon, the merest hint, and it came with a nutty ice cream.
We reckoned this was the only error of the evening. A simple vanilla would have worked better, the almond flavour battling a little too hard with the chocolate, which just needed tempering by something cool and light.
We glugged house wines and some cheeky pudding ones too. The Moscato d'Asti was so scented it reminded me more of a Jo Malone scented candle than a wine. Amazing, we pondered, what sophisticated magic them little grapes are capable of.
And then, because my guest is a little famous, some wasted little nymphette who, my research tells me, gets papped with teen pop heroes, approached and invited us to join her and her friends as they launched a new range of hair products in a bar downstairs.
We made a hasty exit. Pausing, Withnail style, to tell the manageress: 'We'll be back. We're coming back in here.'