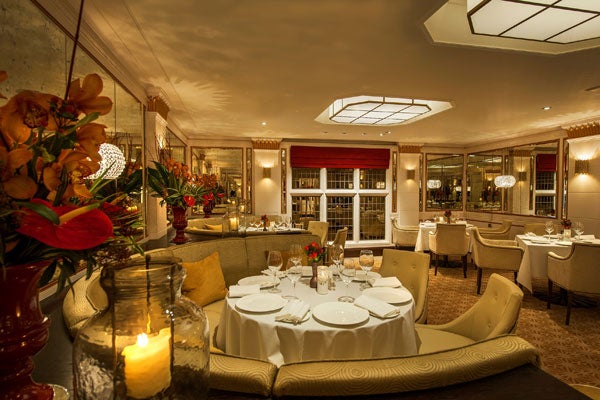 Alex Matchett praises the winning culinary combination found downstairs at the Kensington casino
In a house where you can very literally, and very legally, lose all your money it's reassuring to know you can at least enjoy a superb last supper before being hauled off to debtors' prison. The restaurant and bar at Maxims Casino in Kensington, housed in the plush basement of the palatial former home of Dickens' publisher, provides just such a departing meal.
On arriving we were ushered downstairs to the cosy bar for pre-dinner drinks. Given how well stocked the bar is with single malts it's almost surprising anyone really makes it to dinner. On choosing our drams we were then joined by the vivacious sommelier Philippe who recommended an oxblood Chilean Malbec before taking us through to the small but snug dining room.
Perhaps predictably for a London casino the restaurant specialises in Western, Arabic and Chinese cuisines. But rather than having a menu of token bolt-ons it all seemed pretty legit: ranging from slow roasted lamb, to Kung Po prawns to Kafta Halabiyeh parsley kebabs. This all conspired to a major headache over what to have. Eventually pressed into action by my own hunger I opted for deep fried salt & pepper prawns with chilli and the fillet steak.
The prawns arrived with some fanfare, an array of sauces all laid in a rather opulent fashion that fully complimented the robustly fresh and juicy seafood encased by the dry and crunchy, but not greasy, batter. It was grand entrée but, just as I was thinking I'd actually made savvy, if unimaginative choices, I was let down by the steak.
You can get worse steaks but you can get better. It was still tasty with the carrot puree and baby vegetables but, being of Neanderthallic stock, I had asked for rare hoping to taste the succulent red flesh of flame tickled beef. However despite the waiter agreeing that rare was 'the only way to have it', it sadly came out much closer to medium – I'd bet on red and it was black…well, dull pink. This meant I had to pull the face of the bitterly disappointed Christmas present receiver who is desperate not to seem ungrateful as they quietly hide their mislaid anticipation.
Thankfully my dining partner had ordered the house special rack of lamb. Given the generous portion size, or perhaps sensing my beef, they kindly shared some with me – giving me a hit of deliciously flavourful and juicy meat, that was not too heavy thanks to the incredible creamy but buoyant mushroom ravioli it was served with.
The jovial Philippe, a waiter you feel is in cahoots with you, persuaded us to take on dessert. This meant I enjoyed perhaps the best crème brûlée I'd ever had. Made with white-chocolate, and with a burnt sugar lid thick enough to require some heavy-duty spoon whacking, it was smooth, sweet, fully textured and quite a joyous affair. As much as you want to make it last you can't: It's a pretty small dish which is understandable as it's probably very bad for you and one of those things a citizen is only allowed a certain amount of – that special kind of exclusivity often called 'fattening'. None of this will stop me going back and ordering another.
By the time we'd reached coffee, by which I mean drinking more whisky (Yamazaki via Lagavulin), Philippe was happily taking us through the history of the building, the first editions of Dickens it used to house and the idiosyncrasies involved in casino dining as well as his own journey into waiting; a sense of informal soiree that brought a convivial and warm end to the evening.
Despite the hard cold cash changing hands upstairs on the turn of a card; Maxims have made a very homely den downstairs in their bar and restaurant. My HNW status being that of 'observer' I don't think I'll be chancing the tables upstairs anytime soon, however, I'd be more than happy to take a seat in the dining room again.