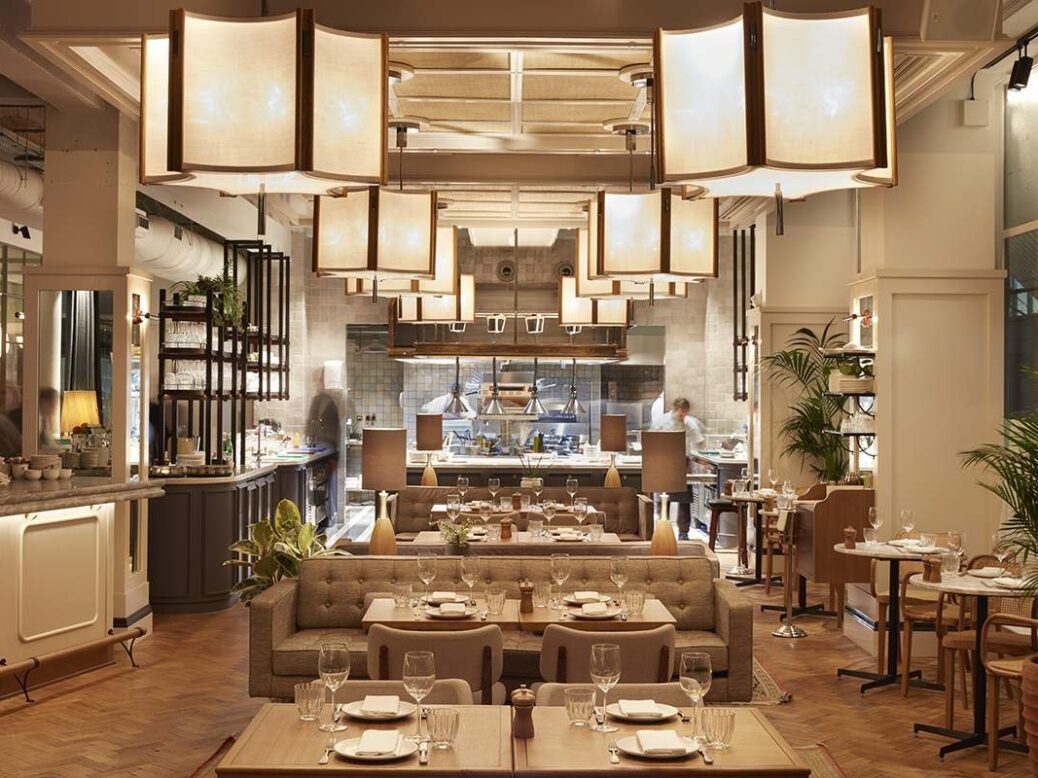 Fitzrovia's newest opening takes diners on a culinary trip from the Mediterranean to the Middle East and back again, writes Sophie Killip
It seems that hardly a week goes by without some new private member's club opening. For instance, there is Mortimer House: a new member's club in Fitzrovia, offering members six floors of mixed-use space, including a yoga studio and a gym. However, for those of us who are not willing to be tied down to a membership, Mortimer House has another trick up its sleeve – Mortimer House Kitchen, the independent, ground-floor restaurant that exudes the flair and sophistication of Mortimer House, without the monthly price tag.
Providing an extensive breakfast and brunch menu, Mortimer House Kitchen would be especially suited for those Sunday brunch, avocado lovers – but not being one of those sorts myself, I chose to arrive at the corner of Mortimer Street and Wells Street on a cold winter evening. Stepping through the doors to embrace the warmth within, we are asked where we would like to sit. Before us is a large, open plan room – choosing a table might take a moment of deliberation.
A white marble bar – set in front of a wall of panelled mirrors – dominates one side of the room, and looks like it might extend forever. Small, round tables – the sort which a couple might have a confidential chat at – line the street-facing windows, but we opt for the middle of the room, beside the kitchen, on a sofa which for some reason I found myself addicted to stroking.
The wooden floors, wall panelling and vintage copper kitchen are reminiscent of the Art Deco style; we have stepped into the suave 1920s, but I have forgotten my flapper dress and cigarettes. To make up for our modernity, we order two bespoke cocktails. I opt for a refreshingly zingy Urban Zen – belvedere, St. Germain liquor and aloe. My dining partner, getting into the swing of the sophisticated Deco vibe, chooses a sharp Er Director – the bitter flavours of sloe gin and Campari sing in true Prohibition style.
The Mortimer House Kitchen menu reminds me of a tapas bar. It doesn't take the diner on a journey; instead, it allows them to experience every dish as an individual delicacy. As we soon find out, sometimes this works – but at other moments the flavours feel very distant to one another.
First up are our small plates, including the 'Iberico Cana de Presa', a type of decadent salami that arrives on a wooden board. Soft shell crab 'fritti' maintain a fragile balance between a crunchy, fried shell and juicy crab within – they are topped with a piquant yuzu, coriander and chilli dressing. Our final small plate is a smoked, skinless aubergine that falls to exquisitely soft pieces, accompanied by cool Greek yoghurt. The Mediterranean-meets-Middle Eastern experience that Mortimer House Kitchen prides itself on is beginning to pay off.
It's a crowd of professionals who I expect are no stranger to fine dining, but I note a pervasive interest as our single medium plate arrives: Buffalo Ricotta Ravioli with Winter Black Truffle. The earthy truffle smell leaves a trail as it blends with wafts of butter. This is a dish that captivates all the senses, with clear, well-balanced flavours. I pair it with a perfectly chilled Botis Ribolla Gialla, a straw-yellow white wine that blends subtly with the pasta flavours like a respectful tip of the hat.
After such clever dishes, we are excited to see what's next, even if we are feeling slightly full. My partner's sea bass arrives: much to her relief, it features only a broth, artichokes and olives as accompaniment. Meanwhile, I tuck in to the grilled octopus. It's one of the many dishes here – including the smoked aubergine – that is cooked in a closed charcoal oven. Slightly charred, the octopus invokes a childhood memory of summer barbeques, without piling smoke into the refined, vintage-meets-modern dining room.
I need a moment to relax after the abundance of food and flavours, but somehow, we find it within ourselves to order a dessert – a light, crisp mille-feuille with a vanilla and chocolate cream and a dash of zesty orange syrup. It is a buoyant finish to a filling evening, and is satisfying without tipping us overboard.
Instead of a journey through courses, what Mortimer House Kitchen has found is a way to take us across the sea: from the Med to the heart of the Middle East, and back again. Either way, it is a journey worth taking – and I still think about that truffle ravioli.
Sophie Killip is an online writer for DesignCurial and a regular contributor to Spear's