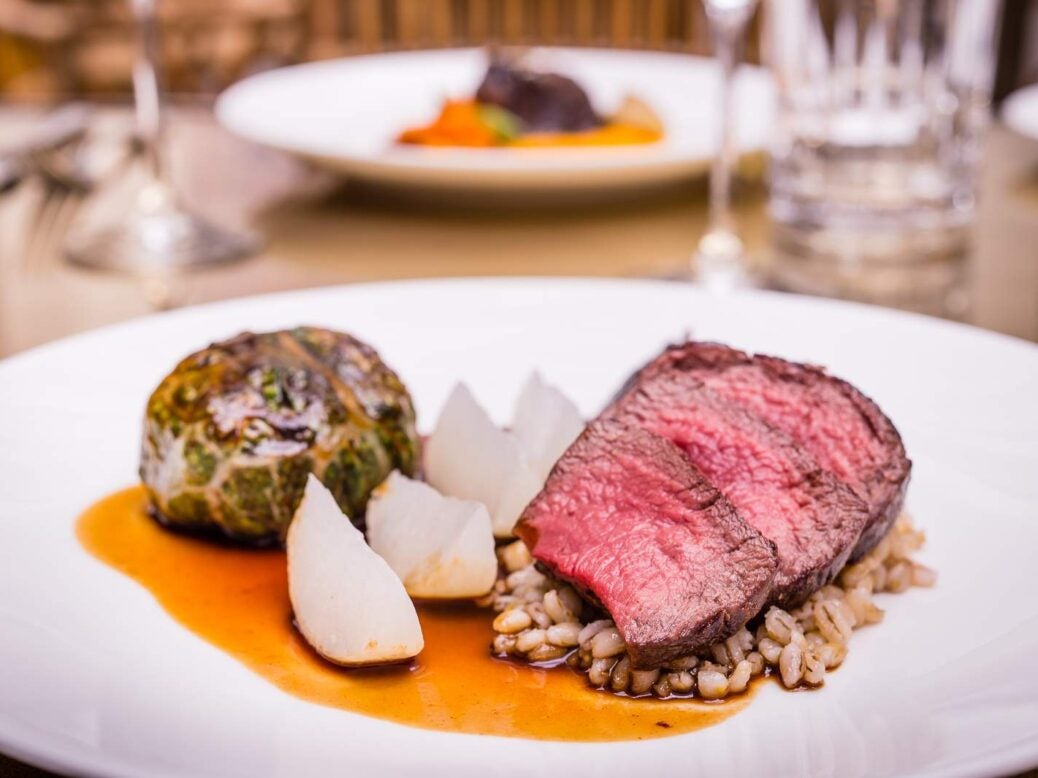 Embraced by the bonhomie of an upmarket former pub, Alex Matchett tucks into a range of Nordic flavours and textures, and a dessert he imagines the Snow Queen would use as bait.
The Swedes of Marylebone are missing their snus. The Nordic clientele who frequent the new look Harcourt, which sits just metres away from a Swedish church, often still ask for the mini-teabag tobacco product, says our waiter, Michal Waloryszak. But now The Harcourt has gone upmarket, dropping the 'Arms' from its previous pub name, skipping the gastropub step of gentrification and becoming a fully-fledged restaurant – there is no room for snus suckers now. It might seem shameless upmarketing, but this is Marylebone after all. If the cost of one pub closing is the delectable fayre of Scandinavia, framed by gregarious, tavern-style service, then I doubt few residents will be complaining.
While I took on a Blue Point toasted lager, my dining partner, Winneretta, fresh from a City 'lunch', engaged the formidable cocktail list, enthusiastically complimenting the 'intensity' of the pink grapefruit, mint, apple and elderflower Mama Spritz: an apt summer firework. As she segued into a, not undeserved, appraisal of the décor I decided it was time to order.
Trying not to be too obvious, but failing, I went for ox-cheek and gravlax. The ox-cheek was claret-coloured and suitably encompassing once in the mouth, dissipating with flavour and soft, atomised, texture. The gravlax, too, was something of a revelation. Served with pickled cucumber, apple and a soft boiled quail's egg it was an involved but non-domineering part of the flavour. In a world awash with smoked salmon, it was great to see its cured cousin doing something more than just turning up and playing flavour hegemony. There was contrast and, therefore, currency in this dish.
For mains Winneretta opted for crab tagliatelle and was more than satisfied with the quality of the homemade pasta, the seafood and the comprehension of a simple, but concerted, dish. Again playing the obvious game, I went for reindeer. The gamey meat was offset with supple, soaked pearl barley – something I hope we'll soon all be eating a lot more of – lingonberry and a haggis-like faggot that provided a hand grenade of flavour.
This was all hearty stuff and gave me a fitting, end of week, mental departure to rolling tundra and its punctuation of hygge-huddled fires. And it was needed: the reindeer was not quite the succulent, lean, flesh I was expecting. Gamey, certainly, and with a sense of rain soaked fir forest, it worked well with the ingredients but was just a bit too tired and drying, not quite the Swedish sucker punch I was ready for. It can't be easy to get fresh reindeer meat in London, especially in August (not all of them fly so well) so I do have some sympathy – but I'd rather they made this a seasonal dish and sourced some local venison as suitable cover. I believe the quality of the menu gives them license to act beyond a purely Nordic mandate – although local Scandis may disagree.
Dessert was blueberry tart and dark chocolate mousse with salted caramel. One of these was a deliciously cool and summery way to finish the meal and the other was meatily-rich and, as the waitress warned, went unfinished. Both were superb; the mousse even looked like dark, almost bloody, velvet inside. It was the kind of forbidden sweet you find waiting beneath the fur coats at a great aunt's house, just before you wake up in the middle of Narnia, prisoner of the Snow Queen.
Thankfully the old pub bars are still there, meaning there's a good sense of bonhomie running through the restaurant, from its wood-cossetted, hygge-inspired, 'whisky room', through to the colonial-style 'garden room'. This warmth of atmosphere is wholeheartedly championed by the staff, who strike all the right tones: carefree without being careless, informal without being insincere. Their wine recommendations are also spot on: a fruity Plan B! 2013 Shiraz still proving bold enough to deal with the meaty reindeer.
Marylebone has its fair share of fine eateries; the Harcourt has quickly and deservedly joined their ranks. The dashes of Scandinavia are astute and distinctive, and in no way a novelty. This is because good meals need no translation. I feel this restaurant will be attracting a grateful clientele from far beyond the confines of this Swedish corner of London for quite some time. It might just be Marylebone's next big thing…