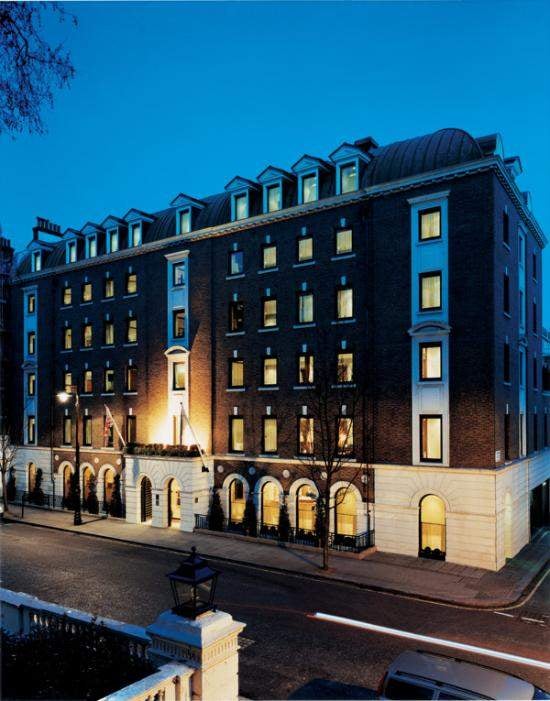 Seduced by an 'obnoxious' dome-shaped dessert dripping in molten dark chocolate,  Zak Smith indulges in the hotel's Michelin-starred restaurant's Basque embrace.
Sitting in a quiet street close to Hyde Park Corner, the shops of Knightsbridge and Mayfair, and surrounded by the embassies of Belgravia, The Halkin, has, since 1991, been looking after international travellers and discerning holiday makers keen to take in the capital. A stalwart of the COMO group of hotels, it's a veteran of the London luxury hotel scene, and together with its sister The Metropolitan on the other side of Park Lane, has had this nugget of central London within a pincer for the best part of two decades.
The Halkin is very much a boutique hotel, with just 41 rooms and suites, that however presents as something far grander. While the exterior is austere and blends imperceptibly into its Belgravia surroundings, the interior is far more exciting. contemporary and innovative, designed by Italian Laboratorio Associati of Milan, the focus is on light and airiness, with a mural 'skyscape', created by the Italian painter Valentino Vago, adorning the ceiling.
While the hotel is very lovely and worth a stay, the real excitement is its restaurant, Ametsa by Arzak Instruction. Run by Michelin-starred chefs Elena and Juan Mari Arzak, the One Michelin-star establishment has a Three Michelin-star sibling in the Basque country.
The Arzak approach is rooted in the traditions of 'New Basque Cuisine', pairing the earthy flavours and techniques of Spain's Basque region with modern, surprising twists. This is not a restaurant for someone who is finicky, pedantic, unadventurous or just a downright bore when it comes to food. The dishes are so out there it's surprising they have a calorie content, so creatively displayed they could fit into a Chapman brothers piece and actually look legitimate, and, despite all the pomposity and haughtiness that usually comes with this type of restaurant, so delicious it left me wanting more.
The 'egg in the leaf'' was simple in its decadence, just a poached egg perched on an exotic leaf, with a yolk so invitingly golden when it burst I could almost hear the birds chirping.
One of the most memorable of the taster menu dishes was the tuna steak. Expertly seared, it came with a stick of smouldering cinnamon. Barking mad maybe, but you would be hard pressed to find a more delicious piece of tuna in London. At £165 a head, this isn't for the faint-hearted, but with each dish paired with wine from the Basque region, it felt as if a little bit of the Arzaks' home was part of each course.
The dessert was obnoxious, a candy floss sized miniature football iced with pure cacao, which, over the course of the next 30 seconds after serving, proceeded to slowly melt away as molten dark chocolate seductively dripping over its dome. The dish was so sweet and rich it actually has to be tasted to be believed, and I felt comfortable in the knowledge that should I need a stent, Harley Street was less than a mile away.
For a reliable and safe, luxurious stay, The Halkin is great, and when paired with the flavoursome and adventurous Arzak, becomes a whole different experience. With bookings still six weeks in advance three years after opening, they must be doing something right.