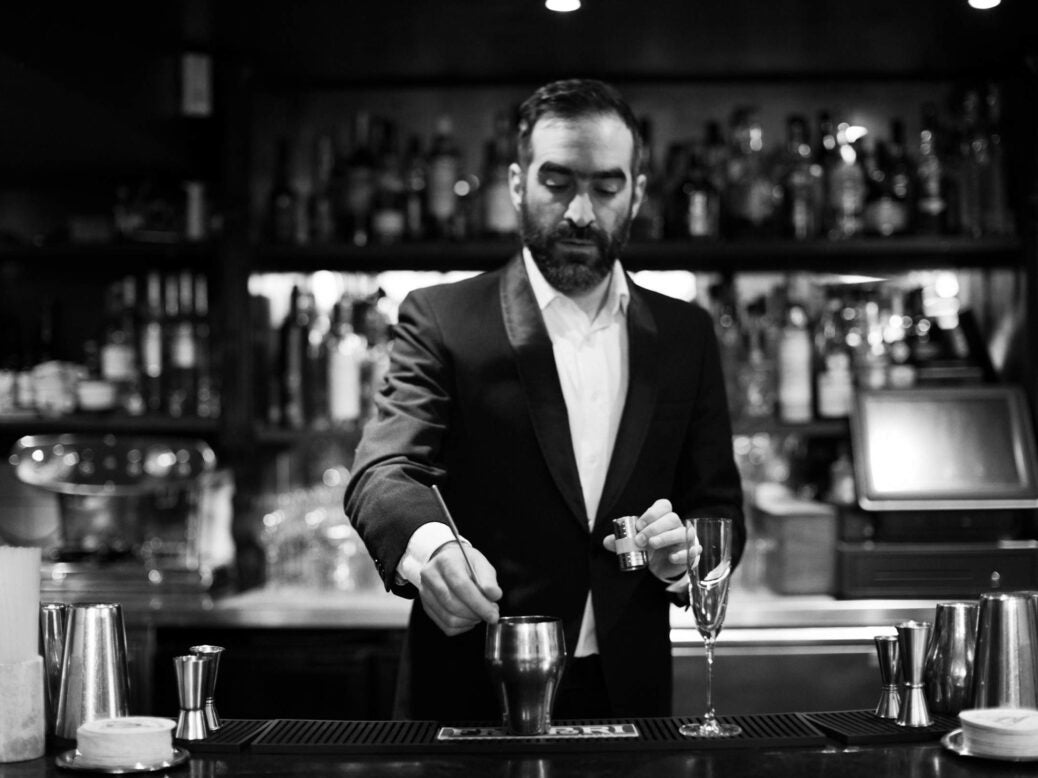 Zak Smith meets legendary barman Tony Conigliaro at his latest venture and finds a slice of old Soho for the age of Tinder
Meeting Tony Conigliaro (pictured above) is like being taken back to a remembered, if not actual, history; into a space where old Soho and old Italy combine, where espressos and Negronis are savoured over profound and intimate conversation.
A doyen of the London cocktail scene, Conigliaro has been behind some of the capital's most distinguished watering holes, serving drinks at Roka before opening his critically acclaimed 69 Colbrooke Row in Islington some seven years ago, followed by Soho favourite Bar Termini.
A barman with his own lab, he creates drinks with the perfect molecular combinations and obsesses over cocktails to the extent that he has been called the 'Heston Blumenthal' of drinks. A sip of his Superiore Negroni, was enough to know that something unique happens in the Conigliaro lab. It was a soft, spicy and delicate twist on an Italian classic, scientifically concocted but full of organic flavour. Such is the precision of the molecular balance that his Negroni's are served in thimble sized flutes so as to encourage people to not distort the flavour with ice. Italians obsess over food, and Tony is transferring that same love and passion to cocktails.
Sitting in Bar Termini, a pocket sized slice of light-hearted Italian charm in the heart of Soho, I wondered what was the driving force behind the creation of an empire that now includes not only in his own establishments but also involvement at Zetter Townhouse and Grain-store. 'I started as an artist and worked in bars to pay my way, and then began reading old mixology books. From that moment I was hooked, and started to create my own drinks after work, and everything kind of went from there,' he says.
Having stood behind the bar for the best part of 20 years, Conigliaro has observed thousands of people making up, breaking up, drowning their sorrows and partying the night away. He says one of the biggest changes to have happened over the past few years has been the advent of Tinder and other mobile based dating apps. 'You can spot them a mile off!- shifting uncomfortably, rasping for a drink- behind the bar, you can really see that people are just naturally shy. Tinder has been amazing for dating, and also for the bar industry. Although if it's not a good match, they're only staying for one drink!'
London, like its bar scene, has changed dramatically too as gentrification and foreign money have propelled the capital to become the world's premier city. Within this context, Tony has tried to create something authentic with Bar Termini, a place where people can enjoy a quick espresso or Negroni, before or after a meal, or even as a night cap. The son of Italian immigrants, Bar Termini says as much about Conigliaro's imagination as it does his childhood experiences, not only on holiday in Italy, but also gallivanting around what was London's seediest neighbourhood: 'Before gentrification, Soho as a place was edgy, full of old faces, friendly prostitutes, characters who created the place [including] immigrant families sharing foods from their past. The greatest compliment I got paid for Bar Termini was that it felt like fun old Soho.'
Assuming he would say one of his famous Negroni's, I asked Conigliaro what he felt people craved when they visited his bar? 'Intimacy', he replies.
Allowing people to savour a drink and share a laugh with friends is nothing new. But Soho is surprisingly short on places that serve quality espressos during the day, quality cocktails at night and aren't private members clubs. Bar Termini can provide that, and with space for just 25 people it compliments that originality with Conigliaro's treasured intimacy.
For all of the names given to him- molecular mixologist, barman, entrepreneur, cocktail connoisseur, we agreed on one thing- he truly is a purveyor of fun.