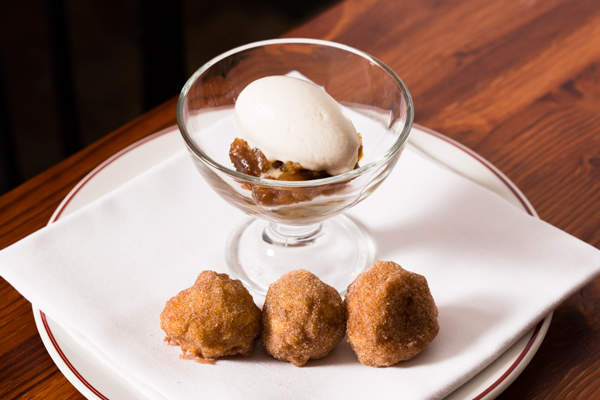 When I tweeted that it had always been a source of annoyance to me that I could not get oysters within five minutes of my house, I was of course joking. Except I wasn't. Not that I spent weeks grieving for these distant bivalves, but a sparky restaurant scene like Dalston's should certainly offer quality seafood. That's where The Richmond comes in.
I had never visited The Richmond's kitsch predecessor, a dark restaurant called LMNT done up in full ancient Egyptian regalia. (I think I rather feared being entombed there, like some pharaoh's hapless courtier, if I complained about the service.) Out have gone the navy-blue walls and gilt cartouches and in have come teal, umber and parchment, the navy reduced to banquettes. There is a glory to the colour scheme, something of only today and only here.
The clientele could not assert quite as much glory. There were the City boys and girls who took a large table and bear-hugged their greetings; the hipsters who couldn't manifest much interest in their food; and a flurry of post-middle-ages ladies in loose dresses and large jewellery who seemed to have migrated from Islington. This is the modern constituency of spendy Dalston.
The Richmond won my heart instantly and then spent slightly longer making me question my allegiance. Any place which offers you an oyster bar chit and an IKEA-like pencil to tick your choice with rates with me.
The Maldon Kumamoto from Essex was nutty and deep, going perfectly with my roasty (if appallingly named) Hanky Panky cocktail, a bitterer twist on a Negroni. (It has Fernet-Branca instead of Campari.) The Menai Rocks oyster from Wales had an Atlantic tang, and I suspect £1 oyster happy hour (Monday-Friday 5-6pm) may become my Russian roulette, such are the highs and dangers of this mollusc consumption.
From the raw bar, for the first course, I had carpaccio with grapes mandolined to infinity and ajo blanco, drips of a cold almond soup. The sweetness didn't sit well with me, though it seems to be the way now to counteract savoury with sugary. My friend's tuna tartare with aubergine, harissa and mint was closer to the mark, if not quite punchy enough.
Perhaps this is too simplistic a test to apply, but I think in a restaurant which majors in seafood, fish ought to be a strong suit. There was nothing wrong with my main course – lemon sole with squid and clams – but it was indistinct, lacking either a delicious harmony of the ingredients or their individual spike. A salty note or even, dare I say it, a sweet one might have helped.
Full marks to the pastry chef though. Apple beignets (posh fritters) were hot, crispy and cinnamon-coated, playing perfectly against the caramelised apple on top of a ricotta sorbet. It had all the comfort of your mother's apple pie with all the dexterity of a star chef on the rise. (My friend's malted milk ice cream and hazelnut cake looked worth a bite, though it was small enough for a bite almost to suffice.)
The Richmond interests me for its food – you won't have a bad meal – but also for the point it occupies in the story of East London. I have lived in Dalston for five years now and watched its gentrification (indeed, have been its gentrification), and by the perverse logic of prosperity, an oyster bar is not an unexpected arrival.
A raw bar for City boys makes sense when the gleaming towers disgorge their masses up the A10 at home-time, but it tells you how the area has changed, and in losing what was kitsch for what is sharp, I hope Dalston does not lose its diverse charm. Then again, if I'd ever gone to the kitsch place…
The Richmond, 316 Queensbridge Road, London E8 3NH