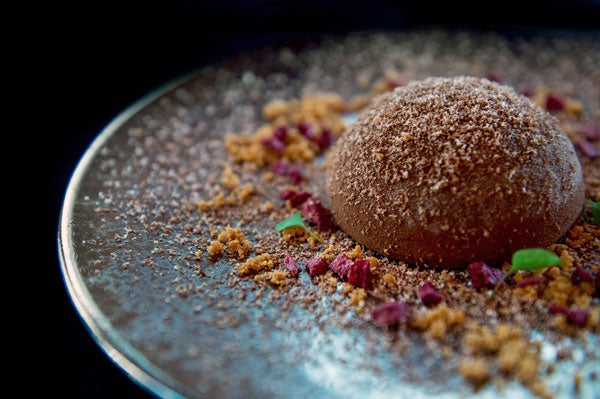 There is a long-established aesthetic for chic Asian restaurants in London as exemplified by Nobu, Zuma and their ilk: restrained, muted, spare, simple. And then there is Sexy Fish.
The new Berkeley Square restaurant from Richard Caring's Caprice Holdings, owners of The Ivy and more, does not so much reject that style as drown it in one of the impressive 15,000-litre electric-blue fishtanks in the private dining room. Right from the Matisse-like fabric ceilings to the green Iranian onyx floor, via Frank Gehry's silicone crocodile creeping across a wall and Damien Hirst's blue bronze mermaids at the bar, nothing at Sexy Fish – not even the terrible but unforgettable name – is subtle.
Now, that does not mean it is bad: I think there is plenty of room for a bold high-spec space which challenges its competitors with an opulent blast. It is certainly two fingers up to bolshie Novikov down the road, as a foodie later suggested, and is likely to challenge it as the hedgies' post-work venue of choice (judging by all the Hermès belt-and-tie combos I saw).
The food, of course, is what really counts. The restaurant suggests three or four small plates (mostly £14-£16.50 each) followed by something from the robata grill. Our Sexy Fish roll, a kind-of compilation maki with three kinds of fish, was fresh, but perhaps too fresh: it could have done with coming up to room temperature to let the full flavours emerge. The crab salad fell victim to the chill too.
Pictured above: Seared yellowfin tuna
Tuna belly tartare came truffled with lotus chips, which have the cross-section of an orange and the taste of crisps, ie an ideal combination, and the soft-shell crab tempura was delicious dipped in wasabi mayonnaise, even if this is not wholly original. I also felt that I had seen miso-glazed Chilean sea bass before elsewhere.
Unexpectedly, maple-glazed pork belly skewers were my highlight, the large, sweet chunks of meat perfect in the yuzu yoghurt dressing. They don't seem wildly traditional for an Asian restaurant, but then nothing about Sexy Fish does.
My highlight, I should say, was dessert. Again, there were questions of originality – the make-your-own-sundae option has been a smash hit at the Colony Grill – but the proper desserts were paradise. White and dark chocolate tofu sounds revolting, but if you can bear the texture – suggestive of blancmange, said my friend – it is rich and satisfying to plunge into its dome (pictured below).
But it was the yuzu marshmallow with yuzu curd, frozen mallow and almond crisp which really triumphed. While the over-attentive waiter hung about a little too long to watch me pull a sour face as I had my first bite, the complex textures and flavours wowed me. There is the cracking almond crisp, the pillowy marshmallow, a granita-like layer and more besides. It was stimulating and welcome.
Sexy Fish has no pretensions to Zen calm, which is lucky: it's raucous, blingy and thoroughly good fun.