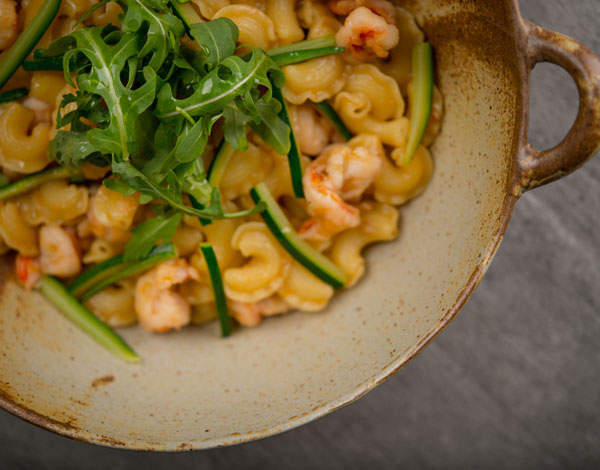 Fast food in London has no doubt improved over recent years but there is still a plague of stodgy pasta doing the rounds. From the floppy pasta salad to the carbonara that has been under a heat lamp for three hours, it is very hard to get good takeaway pasta.
Scarpetta has recently opened on Cannon Street in the City and it looks to be doing wonders for the reputation of pasta to go. All of the pasta is made fresh on site by their Italian expert, who just happens to look like Super Mario without the moustache. They use semola (semolina), which is much sandier in texture than flour and is much higher in fibre so is a healthier option with a lower GI, giving you slow-release energy throughout the afternoon.
Every day they make a different shape of pasta to show their customers that it's fresh and they have a selection of five sauces. When I went in they had everything from a traditional Norma (aubergine and tomato) to a light veal ragu, all freshly prepared and all sitting for hardly any time on warming plates.
Each of the serving bowls was small and frequently refreshed to ensure the pasta wasn't stodgy, and they retained a lovely al dente texture which is oh-so-rare in fast-food pasta. And, surprisingly, it isn't even expensive: small boxes come in around £4.50 and the larger ones at £6.50. Considering the quality of the pasta and the fact that it is being made freshly in front of you with proper imported Italian semola, I think that is pretty good.
If you don't fancy pasta, they also have a selection of salads including prosciutto and fig, as well as a large selection of sandwiches. They have a porchetta focaccia roll which looked delicious, but we tried the bresaola with soft goat's cheese and truffle oil, which arrived toasted. It was a pretty excellent sandwich and much nicer than your standard Pret number.
In the morning, they are more artisan coffee shop than artisan pasta shop, but they take the same pride in setting you up for the day as the do refuelling you at lunchtime. The room is clean and bright with a mix of modern tiling and reclaimed woods. Although the service area can get a little crowded, there is a nice relaxed atmosphere to the place and punters seemed happy. I would certainly pop in there if I'd forgotten my lunchbox. I'd almost forget my lunchbox on purpose some days.
At a time where artisan pasta production is in decline in Italy, it is rather lovely to see some Italians taking pride in their production here in the UK.