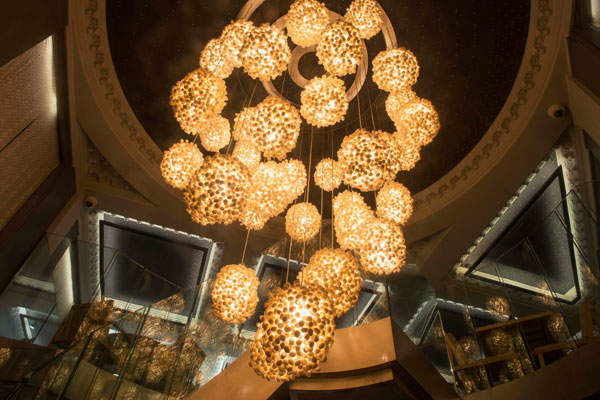 My favourite thing about Kouzu is that every single staff member greets you with a cheery shout on both arrival and departure. It is sovery jolly and becomes a lovely soundtrack to your dinner – little friendly yelps going off every now and then. I tried very hard not to join in but couldn't resist. I most certainly wasn't saying the right word or making the correct sound but I enjoyed it.
So many restaurants try so hard to be luxurious and polished that they lack charm, Kouzu is very well put together of that there is no doubt but the staff, and this lovely ritual, give it a great warmth. Not that it is a restaurant that need to woo its guests with great service to make them forget the average food – the food here is delicious – so really you go for the food, stay longer on account of the service and come back for both.
The very quiet and unassuming owner works with an all Japanese kitchen staff headed up by Chef Kyoichi Kai, one of the founding chefs at Zuma, to create an impressive modern Japanese restaurant with a menu consisting of traditional sushi, 'new stream' sashimi, tempura and a selection from the grill.
The tempura was light and delicate while the 'new stream' sashimi was a wonderful modern interpretation of sashimi with dishes veering more towards cerviche in places with a lime cured sea bass with micro herbs. The beef fillet tataki is a good option for those a little scared of raw fish – it is gently seared, thinly cut and served with a sweet and sour oriental dressing.
The traditional sushi offering is extensive and very accomplished. The house special is a tempura prawn roll, which is wonderful, though I must say the very best thing we had was the o-toro nigiri. O-toro is the very best part of the tuna, the belly. It has a wonderful depth of flavour, so much so that you would almost think you were eating a meltingly delicate piece of beef. Probably why they refer to it as the waygu of the sea.
All of the fish here is incredibly fresh and they don't use frozen fish, which is why they have decided to close over Christmas rather than use frozen, which they believe to be inferior in quality. I admire that, sticking to their principles even if they may loose some revenue.
The puddings here benefit from some French refinement. Instead of texturally challenging motchi you get beautiful chocolate mousse filled with salted caramel, exquisite brown sugar patisserie and delicate black sesame icecream.
Kouzu, in my opinion, is a great place. The staff and atmosphere are charming, the food exquisitely prepared by the very skilled and modest chefs and the operating principles of only using the best fish and only opening when that fish is available are admirable. I'd gladly return.
@kouzurestaurant