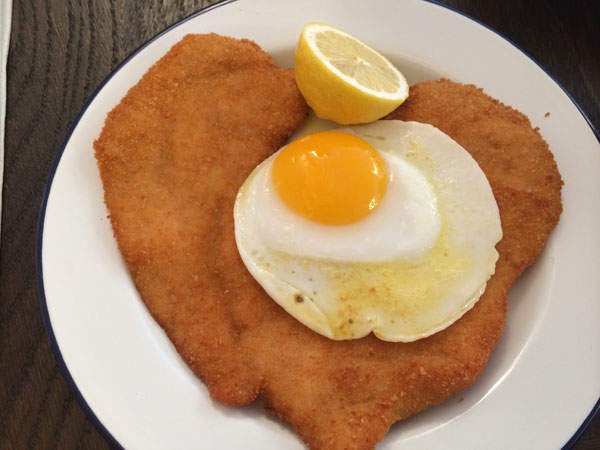 Austrian food is having a moment. For far too long German and Austrian food has been put in a box labeled 'stodge' with people thinking only of sausage and schnitzel. While these are cracking exports, there is much more to the cuisine of these countries than first meets the eye.
They have wonderful produce – white asparagus and cured meats, Schwartzwalderschinken and Bauernschinken for example, being at the top of my list. They also have a flair for using everything pumpkin. Pumpkin seed oil is quite beautiful and one of the best salad dressings I've come across.
Now, while the new Austrian offerings in London aren't doing much to shift the sausage and schnitzel image, they are at least doing something to make it seem like a more viable dinner option.
Boopshi's (whose name is a corruption of 'little doll' in German) offers 'Schnitzel and Spritz' – as I said not venturing far from the usual view of Austrian food – however they make it fun and approachable, serving it up in enameled dishes in a simple dining room.
The schnitzels are well sized and not greasy, even if they aren't quite as juicy as some I've had before. They also offer sausage, as is mandatory in Austrian places over here. It is perfectly tasty, especially if you order the cheese sausage – which you won't believe is anything other than horrible until you've tried it – but in my opinion not as good as those on offer at Kipferl on Camden Passage. I think wurst should come with rye bread and German mustard but here the sausage comes naked with no sides, which I find sad.
Sides are good though they lack a little sparkle, with the exception of the spaetzle (egg noodles), which is covered in cheese and, should you wish, extra speck (bacon). This is Germanic mac and cheese, a natural winner. The potato salad needs a more vinegary tang to cut through the fat content of the schnitzel and sausage combination, and a few chives wouldn't go a miss either. In my experience nearly everything comes with chives in Austria. (Schnittlauch if you're over there.)
As well as these staples they have five or six other dishes, including Tyrolean goat's cheese with beetroot and pumpkin seeds. (Authenticity points for the pumpkin seeds.)
Puddings are as traditional as they come – Strudel and something authentic but not often available here, Kaiserschmarrn. Kaiserschmarrn is a big plate of cut-up pancake with raisins, icing sugar and jam. It is exactly the sort of thing you'd expect to see on the menu at your local alpine hut.
Drinks here are good, with huge goblets of spritzers available for a reasonable £8, as well as Austrian beer and my personal favourite from a year of living in Salzburg, Almdudler. It is an Austrian herb lemonade, though you'd never really identify any herbs in it from the taste; it is just a great local soft drink. It also has a charming drawing of a boy and girl in traditional dress on the front.
If you are after a cosy alpine evening, you will find the dining room here a little sparse and lacking in yodeling and delightful horn music. The bar downstairs is a tad cosier thanks to limited lighting and padded booths and is fun, even if there are a few awkward cellar jokes to be carefully avoided.
I would probably still go to Kipferl for a more authentic all-day Austrian experience – the waiting staff are all Austrian too – but Boopshi's is an accessible, modern take.
31 Windmill Street
London W1T 2JN