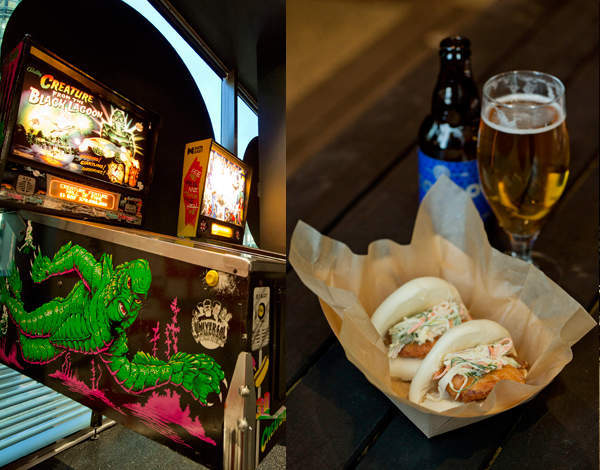 Based on a Japanese izakaya, or bar, Beer and Buns is found up a very dark staircase in a corner of the K10 sushi restaurant on Appold Street, behind Liverpool Street. It offers the UK's largest range of Japanese craft beer, big, fluffy hirata buns filled with all sorts of delicious things and giant Korean sticky chicken wings.
The room is painted black, filled with black picnic benches and augmented with glowing pinball machines, table football games and a few high stools next to any available surface space.
It won't provide you with a relaxing, quiet dining spot in which to read and think. It /will/ provide you with big food that is incredibly tasty and craft beers that even I, a non-beer drinker, could enjoy.
Admittedly, the Echigo Koshihikari beer I liked is priced at £9.95 for a bottle, but that bottle is 500ml and the beer is 'the first Japanese craft imported from Niigata Prefecture in Japan'. It is a rice lager – I quote the menu here – 'made using a super-premium short grain rice called Koshihikari, which is harvested literally from the backyard of the Echigo Brewery (Japan's first micro brewery)'.
The beer menu comes with full tasting notes and an explanation of each drink, which is a wonderful thing. Lots of places bang on about their craft beer selection but if you're not an expert you have no way of finding your way through the menu, so this added information on the menu is a big plus.
Tables are covered in unfolded beer boxes in place of disposable tablecloths and you get your food using a pager system, which causes huge excitement and lots of whooping when orders are ready. The hirata buns (£6.50 for two) and wings (£9.95 for six big ones) can only be eaten with your hands (no cutlery is given to you, though you can ask for it), which is as it should be. Yes, it is messy and sticky but that is what the supplied wet-wipe is for.
I did feel a little elderly there this Tuesday – it was two for one on all food, so obviously packed – as I strained to hear the conversation but I went in early the Friday before and had a very different, much quieter experience. If you are looking for a fun evening with dim lighting and great food that won't break the bank, it doesn't get much better than this.