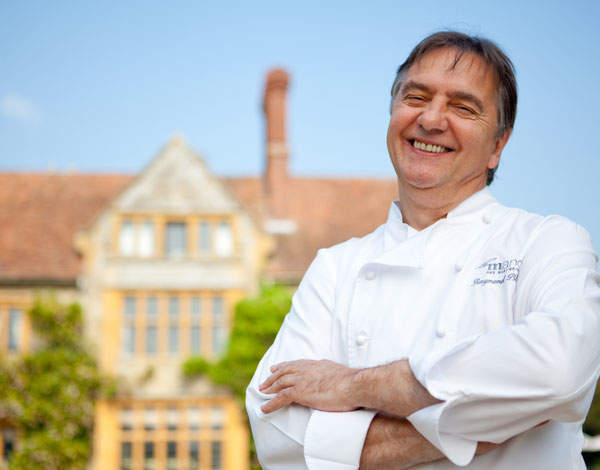 I have been in pursuit of Raymond Blanc now for years. We have had a few brief meetings, including one at The Connaught's famed Galette des Rois party where we discussed Hawaiian shirts and sausages. Finally a few months ago I'd arranged to go to Le Manoir to try out their cookery school and to finally pin RB down for an interview.
When I arrived, though, there was no sign of Raymond. He had been called back to London urgently. Exactly where I'd just come from, which seemed rather ironic. So the charming Frenchman eluded me once again but no matter, the cookery school run by Mark Peregrine was still there.
The idea, from what I understand, is that there will soon be a gardening school to accompany the cookery school so you will have the opportunity to understand the whole journey from ground to plate.
Blanc's son runs the app Henri Le Worm, which encourages children – and adults – to explore the connection between nature and food so this seems to be the slightly more hands-on, higher-end version of the same idea. And it is a great idea – you appreciate your food much more when you understand where it has come from and how you can make the best of each individual ingredient.
The cookery school was teaching the Blanc Vite course on the Monday I was there – the recipes are designed to be quick and healthy. Natalia Traxel was also on hand to provide nutritional advice, which was incredibly interesting.
The cookery school has recently been completely refurbished and is very much like a large family kitchen, but with several work stations around the edge of the room and one large kitchen island in the middle. The course takes the form of both demonstrations and practicals so you can rattle through a fair number of recipes and techniques during the day and still wander around the vegetable patch.
You work in pairs – though the whole day is very sociable so even if you go alone as I did you won't be a Billy no mates in the corner. I was cooking with a man whose wife had recently passed away and he was there to learn how to cook better food than beans on toast for his young daughter. Within the first five minutes he had sliced his finger and failed to poach not one but three eggs but by the end of the day he was up to speed and feeling confident that he could provide healthy dishes for his little one.
That highlighted the value of this course for me – it is genuinely informative and you come away being able to make dishes that you could cook at home, from cauliflower soup to simple steaks and a fuss-free soufflé.
Some in the class were regular cooks and others had hardly touched a wooden spoon in their lives but not one person was made to feel like they were not good enough. The tutors were supportive and patient and I found the whole thing enjoyable. Plus, you get given proper chefs whites to wear and – even better – you get to take them home.
This was one of the most useful cookery courses I have been on. I regularly use recipes and techniques I learnt that day at home. I've been cooking since I was old enough to hold a spoon and feel myself to be pretty capable in the kitchen but there are always new things to learn and ways to get better.
Whatever your level or ultimate cooking aim, a day at the Raymond Blanc cookery school will help you on your way. You might even be lucky and have RB teaching you. As for me, I am still waiting for Raymond.