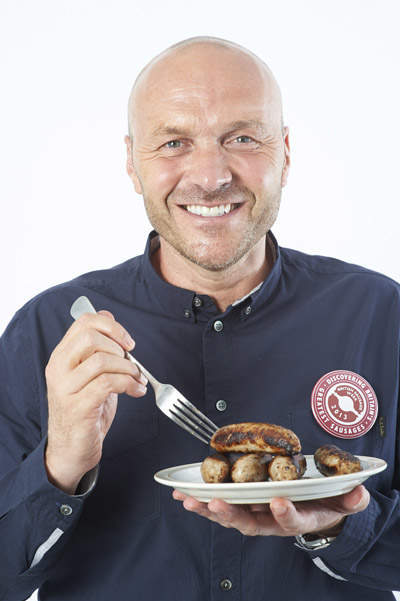 Start girding your loins: it's British Sausage Week next week. (Like Miley Cyrus' recent album, we always have time for #bangerz.) There will be various wurst-y things going on, including a pop-up sausage shop today in Spitalfields with Simon Rimmer, who has been collaborating with British Sausage Week to discover Britain's greatest sausages. The cook-off for London and the South East is happening there today, so do pop along and have a sniff if you want to start celebrating Sausage Week early.
In honour of this mighty celebration of pork, I have been conducting some research of my own. I have been talking with some of my chef friends and taste-testing a few sausages to come up with my very own list of top bangers.
Raymond Blanc and Mark Hix recommend
Raymond Blanc and Mark Hix both recommend the sausages from Paddock Farm, where they raise Tamworths in large outdoor spaces. The pigs live in family groups and are cared for on a daily basis. They offer full traceability on their pork, which is reassuring for those of you out there interested in provenance.
Henry Harris's recommendation
I recently learnt just how important sausages are to Henry as it turns out his father owned a pioneering sausage shop in Hove – magnificently called 'Bangers' – back in the Seventies. I now, therefore, have an even firmer belief that Henry's recommendations are worth taking seriously.
For Italian braising-style sausage – yes it is technically British Sausage Week but I am embracing all sausages today – try Gazzano on the Farringdon Road. He also recommends the traditional English sausages from Franconian Sausage Company as well as their German styles and smoked black pudding (which can be found at Racine, Henry's fantastic French restaurant).
Pictured above: Simon Rimmer
His final recommendation – and one that I will vouch for – is The Ginger Pig. He reckons that they make the best Toulouse sausage in London. The Ginger Pig also breed Tamworths as well as Gloucester Old Spot and Berkshire pigs.
I had a little tasting session at home the other night of their wares and can thoroughly recommend their traditional sausages, which were flavoursome and beautifully juicy. They have also just introduced a toffee apple sausage, which is full of apple, black treacle, caramelised onions and cinnamon to create a sausage they feel is perfect for Bonfire Night and the cold winter months to come. I'm not going to argue with them; I have some in the fridge for Tuesday.
My guilty pleasure
Having spent a year living in Austria, I am very particular about my sausage. As much as I love a British banger, I am partial to the Kaesekrainer at Kipferl on Camden Passage. Worth trying for an authentic Austrian lunch with a little rye bread and horseradish.
For more information, go to www.kipferl.co.uk