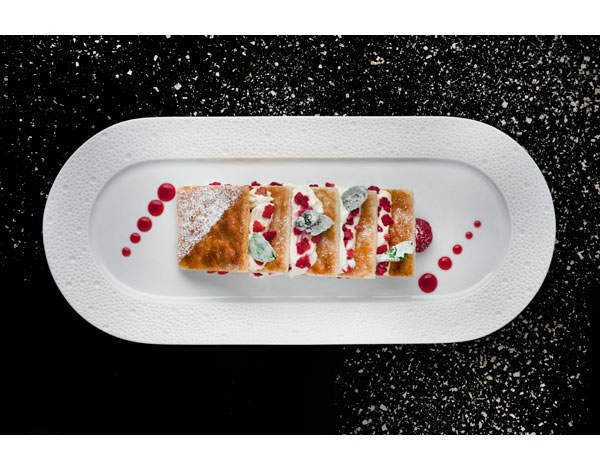 Quattro Passi is a new 'Italian fine dining restaurant' on Dover Street in Mayfair. It is a very well appointed restaurant – white table clothes, attentive waiters and a two Michelin starred chef overseeing the kitchen.
Yet when I visited it was practically empty, which made the delightful music box of chocolates playing out its sweet little song at the end of the meal feel a little sad.
We have a few very good Italian restaurants in London that would be defined as 'fine dining' from Murano, just around the corner from Dover Street, to Locanda Locatelli and L'Anima and they are all booked up and busy thanks to their reputations.
Read more from Spear's Food Friday
Quattro Passi should in theory be tapping into the same client base but they don't seem to have been promoting themselves very much. Chef Antonio Mellino has two Michelin stars for his restaurant in Campania but unlike say, Giorgio Locatelli, he doesn't have a very high profile in the UK, which is a great shame for him as the food here really was very good (I took a real-life Italian with me to judge the authenticity).
The restaurant itself is nothing wildly exciting – pales walls and chairs, expensive lighting and mirrored walls. However, the veritable shelving unit they bring to the table laden with bread is hugely exciting as long as you're not on the soul-destroying Atkins diet: buttery rolls, focaccia, crisp flatbreads and grissini, all beautifully made and refreshed if you run low. I do loathe bread stinginess in a restaurant, almost as much as being expected to pay for it. £3 for some baguette? I don't think so.
Starters of chargrilled octopus and a beef carpaccio with artichoke salad were beautifully presented, well seasoned and simply very tasty but it was the pasta course that was the most memorable. This comes as no surprise to anyone familiar with my love of carbohydrates.
I opted for the linguine with zucchini – or courgettes for us Brits – on the advice of the waiter. Despite sounding rather dreary it was fantastically good. The sauce was silky smooth and rich with parmesan and beautiful ribbons of courgette and delicate courgette flowers ran through the linguine adding a dash of glorious green and orange. It was perfectly seasoned and beautifully simple.
This, more than anything else I ate, epitomised why I love Italian food so much – simple ingredients, perfectly treated. As lovely as all of the rest of the meal was – beautiful fillets of fish, perfectly cooked vegetables, a colossal rum baba and tart sorbets – I could have happily left it all and just eaten the pasta.
But should you decide to do that you would still be left with a sizable bill and this is the main downside to eating here. Even the lunch menu is priced substantially higher than many of its Michelin starred competitors with two courses at £35 and three at £45. You get three courses for £30 at neighbouring Murano.
With such high pricing and equally high standards from their better-known competitors, I worry that Quattro Passi is sadly in for a bit of a tough time. Even more concerning is that the frankly awful Novikov two or three streets over is packed to the point of customers overflowing onto the pavement, while this lovely restaurant sits empty. If this restaurant was in Marylebone or closer to Soho it may well thrive with better footfall and more adventurous diners.
It is a shame, Mellino's food is of a very high standard – offering excellent ingredients sourced directly from Italy and cooked simply but brilliantly – is great and the bread shelf nothing short of an absolute marvel. Only time will tell.
Hopefully a few of those people spending £43 on a pizza at Novikov will suddenly develop better taste and spend their money more wisely on some genuinely good and authentic food at Quattro Passi.