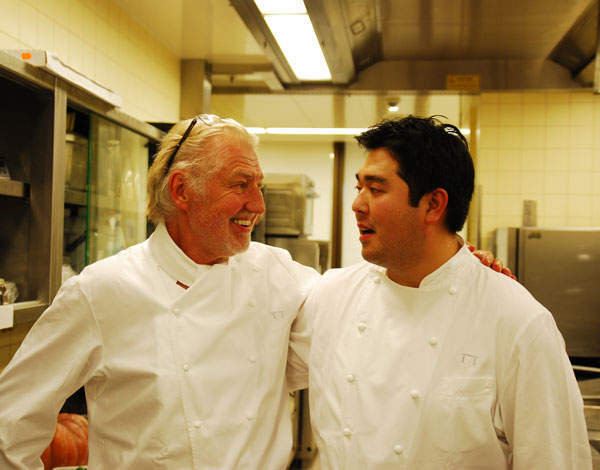 We all know that the Waldorf Salad was created at the Waldorf Astoria in New York, but I doubt that most people would also credit them with the invention of eggs Benedict, Thousand Island dressing, red velvet cake and the Manhattan.
During October, five chefs from the James Beard Foundation – a programme set up to celebrate American food culture and heritage through educational and inspirational courses and events – were paired with Waldorf Astoria 'master chefs' to work on creating a new signature dish that will (hopefully) gain the same iconic status as earlier creations. The Waldorf chefs include Pierre Gagnaire, the Galvin Brothers, Heinz Beck, Jimmy Schmidt and Jan Van Dyke.
I flew to Berlin to meet with Christopher Kajioka and his mentor chef, Pierre Gagnaire, who has his Michelin-starred Les Solistes restaurant in the Waldorf Astoria Berlin. While Chris went out to explore Berlin and take in the markets, restaurants and influences of Kreuzberg, Pierre Gagnaire sat down with me to discuss everything from wine and his love of the fish pie at Dean Street Townhouse to the perfect way to make mashed potato – and it isn't with Joël Robuchon's proportions, in his opinion. You'll be able to read more about that in issue 42 of Spear's, which will be out in December.
The two chefs will spend a week together both in and out of the kitchen, coming up with ideas and refining their dishes. You can track their progress, should you be interested, through Waldorf Astoria's social media channels.
According to their Facebook page, Kajioka '[doesn't] like super cerebral food. [He likes] food that you put in your mouth and it's just delicious. That's why we eat. It's simple.' I'm certainly interested to see how that philosophy manifests in his collaboration with Gagnaire, a man who is known to see food as art.
While early previews of the dishes are emerging online as we speak, the main event doesn't take place until February 2015, when the participating young chefs will travel to the Waldorf Astoria New York to prepare their dishes for a distinguished panel of judges who will decide which dish will be placed on all 28 of the Waldorf Astoria hotels' menus.
If you fancy taking on one of the Waldorf Astoria dishes you can enter your own versions by tagging a picture with the #TasteofWaldorf hashtag for a chance to win a free stay at a Waldorf Astoria property. So be sure to photograph your cocktail hour or morning-after breakfast this weekend.
facebook.com/WaldorfAstoria
twitter.com/WaldorfAstoria
instagram.com/WaldorfAstoria