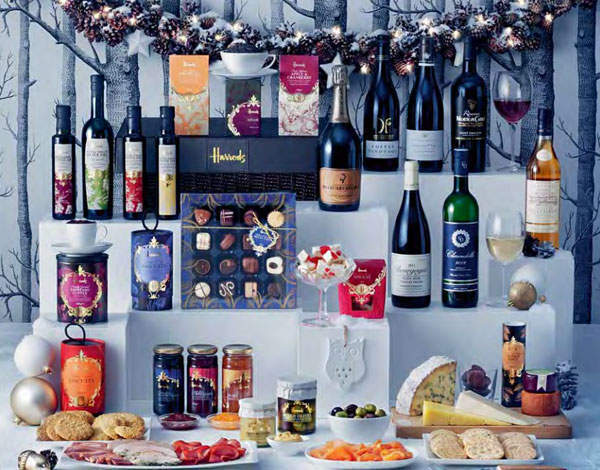 Christmas means different things to different people. To some it means family arguments, others mainly think about overindulging and gifts, while a few still remember what we are actually celebrating.
Whatever it means to you, you will undoubtedly have your own traditions. In my family, Christmas is a quiet, happy affair that starts with stocking opening followed by a big lazy breakfast. Christmas dinner doesn't happen until seven in the evening when candles make everything that little bit more festive.
I also have traditions in the run up to Christmas; for example, I fairly aggressively refuse to get into the festive spirit until 1 December. However, every now and then we need to make exceptions and one of those exceptions is when a Harrods Christmas Hamper arrives and needs to be road-tested. I dutifully took one for the team and allowed myself a little early festive cheer. Or quite a bit of festive cheer as it turns out.
There is a lot of competition in the hamper market – Harrods, Fortnum & Mason, Selfridges and anyone else who sells foodstuffs and has access to a box, basket or some form of wicker. I can't claim to know which is the very best (I haven't tried them all, sadly) however I can tell you how excellent the Harrods offering is.
Granted, it isn't cheap. The Regent comes in at £575 and – should you wish – you could blow up to £20,000 on their Decadence hamper. If you do not have the deposit for a small flat sitting around in your purse, they do have a lot at the lower end of the scale too, with festive boxes at the £45 mark. In other words, they have something for everyone.
For Christmas, though, it is acceptable to push the boat out a little. The Regent (actual contents pictured above) is stuffed full of everything from jams and marmalades to wine, tea, biscuits and chocolates. There is also a beautiful selection of smoked meats (carpaccio, smoked chicken breast and smoked duck) and a hefty amount of delicate smoked salmon along with a bulging box of cheese.
Helpfully, the hamper also comes with a cheese board and knives so you will have all of the correct serving equipment to avoid a cheese-based calamity on Christmas Day.
You can't fault the quality – or the quantity – here. I haven't tried everything yet but the perishables were duly eaten with friends and a bottle or two of wine. The meats were juicy and flavorsome, heady with smoke, but not to the extent that you couldn't enjoy the flavour of the animal, and the cheeses were crumbly, creamy and perfect on the accompanying crackers (or should you wish atop a truffled croque).
The hamper itself is a huge wicker box topped with an embossed leather lid, which creates ample room for gourmet goodies. Once you have emptied the hamper it becomes perfect storage for gifts and wrapping paper, allowing you – should you wish – to maintain some semblance of order on the big day.
But most importantly, everything about it feels special – from delving around in the straw to find the next treat to the beautiful packaging. If you want to indulge this Christmas, this is a rather good way to do it.
Corporate Service at Harrods can arrange UK and international hamper deliveries to company and personal addresses in time for Christmas. Contact Corporate Service at Harrods on +44 20 7225 5994, e-mail corporate.service@harrods.com or visit harrodscorporateservice.com for more information on Harrods Hampers and Gifts 2014 or to place an order