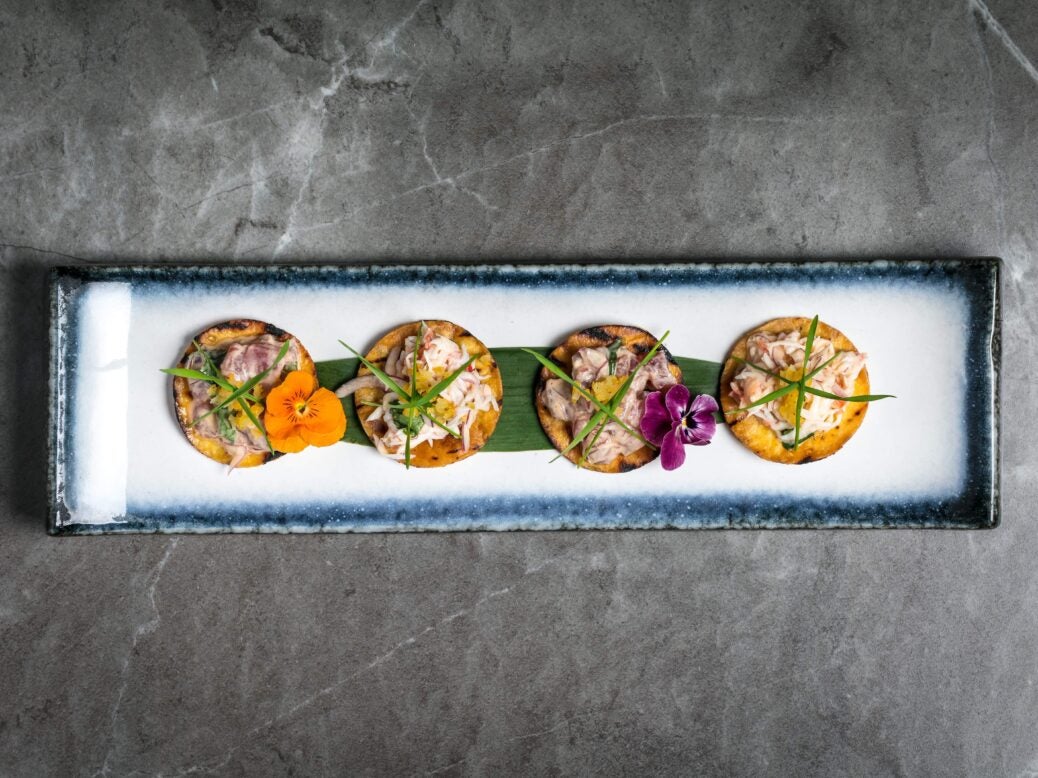 A tantalising selection of Japanese fusion treats await visitors old and new at Nobu's Hyde Park venue, writes Wendy Coumantaros
Nobu, the name of this international restaurant chain immediately conjures up celebrities, oriental food and fine dining. The Japanese-South American fusion is a wonderful combination of exotic, colorful dishes which create tasteful treats that must not be missed. The dishes are certainly innovative and stylish which creates a distinctive appeal, combined with very attentive and knowledgeable staff make for a first class dining experience.
The location on Park Lane, sandwiched between the Hilton and the InterContinental Hotel could not be more central. Nobu is a sleek and minimal space, with expansive views overlooking Hyde Park.
You will be spoilt for choice with the Nobu menu, with 10 pages of enticing dishes with compelling names. Fortunately the experienced staff are very good at guiding diners into a range of indulgent dishes that suit the aspirations of first time Nobu goers or directing regulars to what might be a new culinary treat.
My journey begins with The Nobu Classic which is divided between 35 cold and hot selections; what could be better than starting with snow crab with creamy spicy sauce or Lobster wasabi pepper or their famous black cod miso . The alternative could be selecting from The Nobu Now Cold and focusing on octopus carpaccio with Japanese dressing , baby artichoke salad or beef tenderloin with tataki and Ponzu.
Also, not many can pass up the opportunity to the very special Japanese Grade A5 Wagyu Beef in one of 5 different styles.
If the first choices need some complimenting, possibly a hot dish of king crab tempura with amazu ponzu or Artic Char with yuzu soy butter or Chilean sea bass umami or Red Jalapeno Miso. Soft Shell Crab tempura with amazu Jalapeno always hits the right spot.
For Sashimi lovers all the main favourites are available – Yellowtail, Sea Bass, Spicy Tuna, Mackerel, Octopus, Squid / Cuttlefish, Razor Clam, Freshwater Eel, Crab and Abalone.
The bento boxes are big Nobu favourites. There are four choices – classic with sashimi salad with matsuhisa dressing, assorted sushi, baby tiger shrimp with ponzu, black cod with miso, vegetable spicy garlic with rice and their legendary miso soup.
Naturally the dessert selection is also delicious with a wonderful variety catering to the sweet tooth. Nobu's chocolate bento box is a big winner and the super tasty banoffee pie is also hard to resist.
Nobu has the usual high grade selection of wines and special cocktails to compliment their outstanding cuisine. Nobu Old Park Lane is a memorable and sophisticated experience.
Wendy Coumantaros is co-founder of Spear's