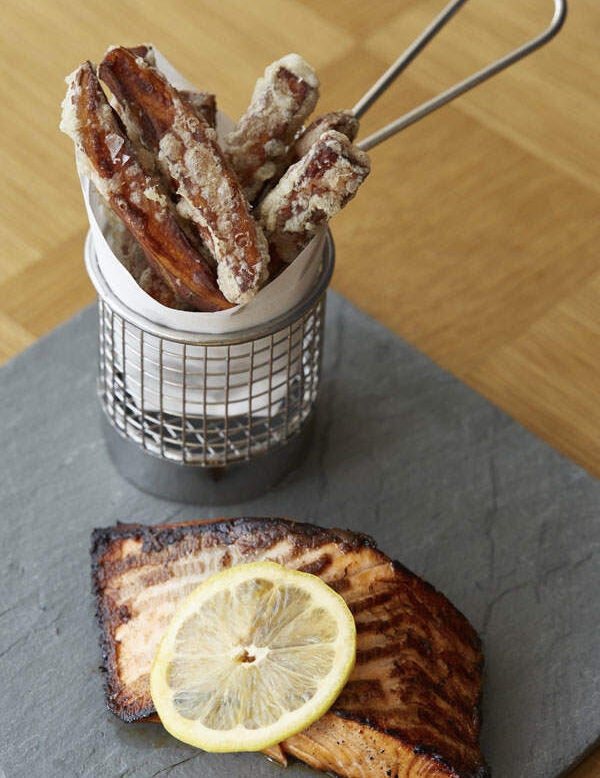 Grilled chicken with spicy lemon garlic
-Serves 4- (pictured above)
Ingredients
Whole chicken
Cherry tomatoes on the vine
Wild asparagus, one bunch
2 lemons, sliced
For the spicy lemon garlic sauce
2 tbsps soy sauce
1 tsp garlic puree
½ tsp sea salt
Freshly ground black pepper
4 tbsps grape seed oil
1 tsp cayenne pepper
50ml lemon juice
Combine all the ingredients except oil. When the salt is fully dissolved, add the oil a little at a time and mix well.
Method
First, spatchcock the chicken by removing the back bone and flattening it out (or ask your butcher to do this!). Next, pat the meat dry with a paper towel. Combine your spicy lemon garlic sauce and pour over the chicken, ensuring all sides are covered. Place the chicken in a bowl and cover tightly with cling film – allow to marinate in the refrigerator for one hour.
Next, preheat the grill. Lightly wipe off any excess sauce and then place the chicken on the grill. Cook until the surface of the meat has browned. Meanwhile, place the cherry tomatoes, asparagus and lemon on the grill to cook.
To serve, arrange the meat on the serving dish and squeeze fresh lemon juice and some extra spicy lemon garlic sauce on the top (to taste). Garnish with the grilled cherry tomatoes, lemon and asparagus.
Honey soy marinated Grilled Salmon and sweet potato chips
-Serves 4- (pictured above)
Ingredients
Fresh Salmon Fillet (Large size about one kilo, cut into 4-5 pieces)
2 large sweet potatoes
Cooking oil
Salt
Black pepper
For the honey soy sauce
3 tbsps olive oil
4 tbsps soy sauce
3 tbsps honey
1 tbsp fresh lemon juice
*8 slices of lemon
For the tempura batter
1 egg yolk
200ml iced water
100g all-purpose (plain) flour
Make by adding the egg yolk to the iced water and mix well. Stir the flour until just combined. The batter should not be smooth but a little lumpy (potato flour could be added for crispness).
Combine all the ingredients except sliced lemon.
Method
First, prepare the honey soy sauce and tempura butter in two small bowls. Next, place the cut salmon fillet in a bowl. Pour the honey soy sauce over the salmon, cover, refrigerate and leave to marinate for about 30 minutes.
Heat the grill. Remove the salmon from the marinade and place skin side down on the grill. Cover and grill over a medium heat for about 10-20 minutes, intermittently brushing (two or three times) with honey soy sauce until the surface becomes a nice brown colour.
Meanwhile, prepare the sweet potato: cut the top and bottom from each sweet potato and cut into 1cm wide chips, leaving the skin on.
Place 8cm of oil in a medium pot and heat to 180°c. Fry the sweet potato chips in batches (as required) for 2-3 minutes each. Place on paper towels and leave to drain for about 5 minutes. Next, dip each sweet potato chip in the tempura batter and fry for about 2-3 minute until crispy. Drain on paper towels and season with salt and freshly ground black pepper.
To serve, transfer the salmon and sweet potato chips to a serving dish and place the sliced lemon on the top of salmon.