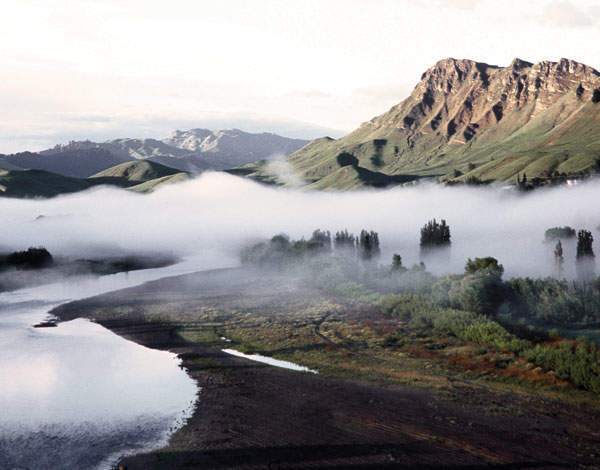 If, for whatever inexplicable reason, I were condemned to drink the wines of only one country for the rest of my life, I would almost certainly plump for those of New Zealand. OK, OK, not counting France. Let's take France out of the equation, like betting without the favourite, in which case then, yes, I would happily stick solely to wines from the Land of the Long White Cloud.
A quick bit of history first. Grapes have been grown in New Zealand since the 1820s, planted originally by European missionaries. Further varieties were brought by German settlers and the Dalmatian Yugoslavs who came to dig for kauri gum in the North Island. They planted vines around Auckland, the early wines of which became known as 'Dally Diesel'.
It wasn't until the late 1960s, though, that producers started to experiment in earnest. Initially, Müller-Thurgau was deemed to be the most suitable grape for New Zealand and was widely planted, producing well made but intensely dull imitations of Liebfraumilch, that notorious vinous bubblegum.
Then, in 1969, the pioneering Spence brothers — Bill and Ross — of Matua Valley Wines planted Sauvignon Blanc at their vineyard near Auckland, the first wines of which were produced in 1974, causing quite a stir. Other winemakers took notice, and it wasn't long before Marlborough in the South Island rather than Auckland in the North, was pinpointed as the ideal place to plant the variety. Companies such as Montana and Hunter's arrived, while Dave Hohnen of Cape Mentelle in Margaret River, Western Australia, was prompted to set up the fabled Cloudy Bay in Marlborough in 1985.
Barely 30 years later, I would argue that New Zealand Sauvignon Blancs are now the best in the world, certainly fine enough to keep me happy for however long I've got left.
But there are also the exceptional Pinot Noirs of Central Otago, Martinborough and — increasingly — Marlborough, as well as the remarkable Bordeaux blends and Syrahs of the Gimblett Gravels in Hawke's Bay. There are the aromatic whites of Nelson and Gisborne; fine sparklers such as Pelorus from Cloudy Bay (and if you haven't tried this champagne-method fizz then you should); and sumptuously delicious sweet wines.
With no restrictions on what may be planted where, there is constant innovation and experimentation and new styles are always developing. New Zealand being New Zealand, a high proportion of the wines are biodynamic and organic. The country's wine exports have grown every single year since records began and have more than doubled since 2008, last year reaching NZ$1.33 billion (£663 million), up 10 per cent on the previous year.
To us in the UK, the wines are all about quality, as we spend more on each bottle of Kiwi wine than we do on wine from anywhere outside France. Indeed, one in every five bottles sold over £7 comes from New Zealand — remarkable given that the country produces less than 1 per cent of the world's wines.
I still remember clearly the blind tasting I went to a few years ago at which senior wine buyers, Masters of Wine and journalists were invited to compare the top 2005 red Bordeaux against the top 2006 Bordeaux blends from the Gimblett Gravels. It was no surprise that the 2005 Château Lafite-Rothschild (£975 a bottle) was voted best, that the 2005 Château Mouton-Rothschild (£675) came second and the 2005 Château Angélus (£295) third. What staggered us all was that the 2006 Sacred Hill 'Helmsman' (at just £17.95 a bottle) came fourth, ahead of the 2005 Château Haut-Brion (£700), with the 2006 Newton Forrest 'Cornerstone' (£15) sixth.
Around 12,000 cases were made of the Haut-Brion and just 130 of the Sacred Hill. Are we paying too much for the former or too little for the latter?
TASTING NOTES
2012 Neudorf Moutere Dry Riesling, Nelson
£18; Wine Society
Thanks to plenty of sun (the most hours in NZ) and cool temperatures, Nelson in the far north of the South Island is a great spot for so-called white aromatics such as Riesling, Gewurztraminer and Pinot Gris. Neudorf's owners, Tim and Judy Finn, planted their first vines in 1978 and although they quickly hit the big time with a Chardonnay I reckon their refined and stylish dry Riesling is the star — pure, concentrated, apple-and-lime fresh and lightly honeyed with a fine, racy acidity.
2011 Kumeu River Maté's Vineyard Chardonnay, Auckland
£33; Berry Bros & Rudd
Some exceptional Chardonnays can be found in New Zealand and there can be few finer examples than this one from near Auckland. Michael Brajkovich is the third generation of his family to make wine here and the estate's flagship Chardonnay vineyard, first planted in 1944, is named after his charismatic father, Maté. Hand-picked, low-yield fruit is fermented and aged for a year in oak, the resulting wine being the quintessence of class and elegance with restrained buttery notes, concentrated peach/pear flavours and a long, long finish.
2011 Seresin 'Home' Pinot Noir, Marlborough
£34.99; Armit
Michael Seresin is one of the world's leading cinematographers, but he is also the producer of what many would argue are the finest wines in all New Zealand. Attention to detail at Seresin Estate is everything and all the wines are organic and biodynamic. Pinot Noir is Seresin's passion and this oak-aged, single vineyard example is an absolute belter, crammed full of blueberries, blackberries and cherries with added hints of herbs, spice and tobacco.
2011 Craggy Range 'Le Sol', Hawke's Bay
£38; Fine & Rare
Established in 1997, Craggy Range is a name to conjure with and I love its wines, especially its Bordeaux blend Sophia from Hawke's Bay and its Aroha Pinot Noir from Martinborough. For me, though, Le Sol stands out. A 100 per cent Syrah from the Gimblett Gravels in Hawke's Bay, it is deep, dark, concentrated and intense and can more than hold its own with the finest Hermitages or Côte Rôties from the Northern Rhône. There is spice, chocolate, blackberries and a gentle touch of vanilla on the finish, and although ready now it will keep for years.
2012 Cloudy Bay Te Koko Sauvignon Blanc, Marlborough
£39.50; Majestic
Although Cloudy Bay wasn't the first to plant Sauvignon Blanc in New Zealand, or even in Marlborough, it managed, somehow, to grab all the attention, putting Kiwi Savvy Blanc on the world's wine map. Te Koko is fuller, richer, toastier and more textured than the regular Cloudy Bay Sauvignon offering, but it still has that typical minerality and vibrant acidity. It's succulent and fresh with loads of juicy tropical fruit and plenty of citrus notes, and is utterly fantastic. It's Cloudy Bay all right, but a Cloudy Bay that goes up to eleven.
2012 Felton Road Calvert Pinot Noir, Central Otago
£45; Hedonism Wines
The snow-capped mountains and crystal-clear rivers and lakes of Central Otago make it one of the world's most spectacular wine regions. And if ever there was a sweet spot outside Burgundy that Pinot Noir luxuriates in and relishes, it's here. Some extraordinary wines are made, especially in Bannockburn, with Felton Road in the vanguard. This example is a delight: gracefully structured, headily scented, with succulent, dark, briary fruit wrapped up in silky-smooth tannins.