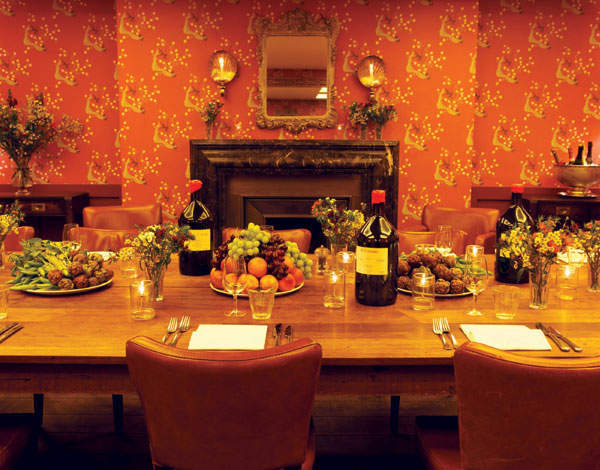 VINTAGE PARTNERSHIPS
Unless you are a drunk, or a lush, or whatever epithet civilised people mutter behind my back, you probably drink wine mostly with food. Studying wine as a stand-alone entity, it can be seen as a product of terroir, grape, climate and manufacture, and understanding a bit about these helps us to understand the wine we are drinking — to understand why it tastes and smells and looks as it does.
But once the wine is in the glass, and the food is on the table, all this matters little — the proof is in the pudding, and the Muscat we drink with it.

There is a knack to choosing the perfect bottle to pair with your supper. It is a somewhat arcane art and requires understanding of an ancient love triangle: diner, dinner and drink. Many a sommelier sees his role as to push a customer to order what he considers the perfect partner to the food, regardless of whether the customer will actually like it.
Not so my man at Bocca di Lupo — Riccardo Giacomelli's philosophy, like mine, is that our job is to understand what a particular person will enjoy drinking with a particular dish, and to help them find that elixir. It is why I practically fell in love with him at interview.
That said, there are some general rules that help choose a good juice for good grub. There are also some foods that make following these rules tricky — and the latter part of this article I wrote with Riccardo to offer specific pairing recommendations.
TWO RULES OF THUMB
Common origin: In any particular region with a wine-making history, wine and food will likely have evolved together.
Similarity or contrast with food: You are either looking for wine to harmonise with food or to contrast it. Rich, hearty stews are great with rich, hearty reds.
Light, delicate dishes are best with ethereal wines. But heavy, fatty foods yearn for sharp, spritely acidic or tannic wines to cut through them. Hot, spicy foods are great with a touch of sweetness. Look almost always for similarity in colour — red meat with red wine, red fish (salmon, mullet) with light red or rosé, white meat or fish with white wine.
RAW VEGETABLES
These (including light salads, crudités, pinzimonio) present a particular challenge. The food is incredibly delicate, with distinct accent notes — the aniseed of fennel, the earthy spiciness of radish, the slight astringency of courgette, the subtle bitterness of certain lettuces or artichokes. One answer to the problem is the more playful side of sparkling wines — finer prosecco or cava. Another way to go would be a light, crisp and mineral white — adjectives as applicable to the food as to the wine.
Prosecco 'Sur Lie', Casa Costa Piane, Italy NV (£14.90, petershamcellar.com)
Prosecco tends towards apple or pear on the palate. This one is on the appley side and, combined with a yeastiness from its second fermentation in the bottle (and indeed the cloudiness of the lees, which are left inside the crown closure), is almost cidery. It's an unusual but brilliant match with fried foods as well as raw vegetables.
Ad Hoc Wallflower Riesling, Larry Cherubino, Australia 2012 (£17.99, slurp.com)
Bracing as the sea, with a briney minerality and refreshing white peach fruit, this very light (11 per cent alcohol) wine is made for light salads and raw seafoods.
CHINESE FOOD
This poses a number of problems for wine pairing, which is probably why so many stick to jasmine tea, Tsingtao beer or gin and tonic. The cuisine is varied beyond belief (because in truth it is not one cuisine, but a tapestry of regional ones as distinct from each other as Austrian food is from Portuguese), and did not evolve alongside a wine culture. Flavours can be bold or subtle, clean or complex, spicy or bland — and we tend to have examples of each extreme on the table at once.
Gruner Veltliner Aturo, Reinhard Waldschütz, Austria 2012 (£38.50, vinothentic.com)
This medium-bodied, very well balanced white mixes fresh grass, tangerine skin and citrus leaf aromas with a good acidity and a good structure. It is an extremely easy, versatile wine (a true tart), which lends it to a panoply of dishes. Turn to it when faced with the challenge of Chinese or tapas.
Condrieu L'Enfer, Domaine Georges Vernay, France 2010 (£31, bbr.com)
This dry white is possessed by the spirit of a sweet one — its nose is honeyed and complex, with peach, sage, cream, dried apricots and their kernels. It has a wizened air, which marries well with the ancient flavour traditions of China.
Riesling Spatlese, Schloss Johannisberg, Germany 2012 (£30.16, wineman.co.uk)
With its amazingly rich pineapple and peach, minerally charged flavour and complex notes of slate and ginger, complemented by lively acidity, this is wine built for Chinese, Thai or Vietnamese. The combination of zingy and sweet notes makes it particularly suited to spicy meals, as they marry beautifully with the biting fresh chilli of the Far East.
CURRY
Curry is one of everyone's favourite foods, and in recent years at least there has been a proliferation of high-quality hot stuff. Beer or lassi are the go-to chilli-quenchers (and I have to say remain my favourites), but sometimes one has to suck it up and drink wine — it's a tough life. Here's what I'd drink, if I had to:
Pinot Gris, Rockburn, New Zealand, 2012 (£16.47, thedrinkshop.co.uk)
This has a surprising, distinct and delicious note of curry leaf, along with pear and ginger. Such aromas, coupled with the twin weapons of fresh acidity and soothing sweetness that do such effective battle against the afterburn of powdered chilli, render this the perfect accompaniment and indeed antidote to any Indian meal.
Don David Torrontes Reserve, Michel Torrino, Argentina 2012 (£12, thedrinkshop.co.uk)
Torrontes has a tendency to lack structure and may present itself as flabby and stale, even when young. Luckily, this is very dry indeed, with the usual floral, apple-and-pears character lifted by lemon sherbet and
a zingy acidity that makes it perfect with rich, hot things.
Pinot Nero Blauburgunder, Tramin, Italy 2012 (£11.60, winedirect.co.uk)
This red is so light it's halfway to rosé, but packed with crisp red berries and rhubarb brightness. It's great with delicate foods — cured meats, light pastas and poultry — but also with layered and spiced curries, especially if you chill it for half an hour or so before opening.
Trepat Negra, Moli Des Capellans, Spain 2011 (£22, winedirect.co.uk)
This full and buxom red is laced with red berry and cola flavours followed by sweet spice nuances — a fusion of fruit and bite to cut through and mellow the heat and the ghee.
TOMATOEY STEWS AND SAUCES
Tomato presents a particular challenge to wine, particularly in rich, meaty sauces. It is so loaded with sugar and acidity that it washes out most wines. In whites, you are looking for fresh minerality and full flavour to rise up and challenge the tomato at its own game; in reds, something voluptuous, round and mellow for contrast.
Assirtiko Wild Ferment, Gaia, Greece 2012 (£15.75, hedonism.com)
This wine is grown on Santorini, in a 3,000-year-old vineyard on pre-phylloxera stock: gold dust. Lemony and very mineral, with a delicate peachiness and hint of wild oregano, this wine has a complexity that passes almost unnoticed by virtue of its sheer drinkability. It's great with gutsy food, but also with bland — it would be equally comfortable alongside a simple roast chicken.
Fontanario de Pegoes, Santo Isidro de Pegoes, Portugal 2011 (£39.96, winedirect.co.uk)
This wine approaches the palate with ripe stone fruit — black and morello cherries, fresh and dried plums — but the fruit-fest soon yields to a more masculine side: cigar boxes, black olives and dark chocolate, and a finish that goes on for ever. Save this for the heartiest, darkest of stews.
Baccarossa, Poggio Le Volpi, Italy 2011 (£21.32, winedirect.co.uk)
A rich and velvety wine, black as sin and thick as thieves, with aromas of berries, chocolate, liquorice and coffee, and a lingering finish. Great with grilled red meats, rich pastas and hearty stews.
OILY FISH
Sardines, anchovies, salmon and mackerel are among the thousands of superfoods the media feed us every day. Don't eat them because you are told to, but because they are delicious. When raw they are easy as pie to pair with, but when cooked they have a pungent fishiness that can destroy the nose of a fine wine. My solution: don't drink a fine wine, but rather a joyous, simple and equally gutsy lambrusco.
Lambrusco Grasparossa, Tenuta Pederzana, Italy 2011 (£11.95, fieldandfawcett.co.uk)
Lovely frothy red, with red berry on the nose, a dry medium body palate and a refreshing, slightly bitter finish — what's not to like? Its gentle tannins and refreshing quality make it a very good match for the freshest and oiliest and fishiest of fish.