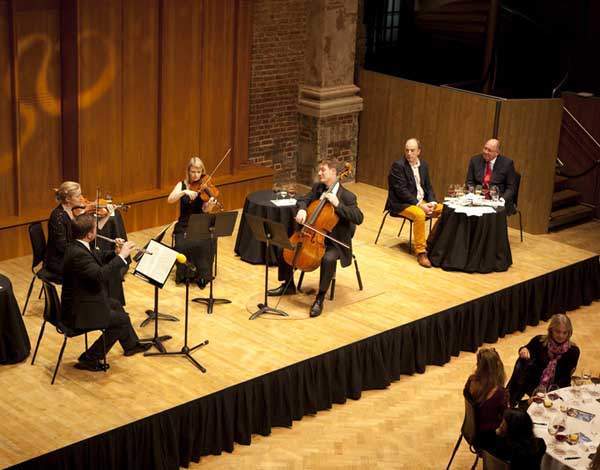 While many of us enjoy sipping fine wines in conjunction with listening to classical music – a fairly obvious duo of delight – it may not have occurred to you that one particular piece of music might affect your appreciation of a certain wine. You might even deem that idea a little off-key.
It's a subject that was taken very seriously, however, at the London Symphony Orchestra's patrons evening on Thursday, at a recital and fine wine tasting at LSO St Luke's, the UBS and LSO Music Education Centre, which is a former church – a slightly odd venue for this expressly alcoholic soiree, which initially led me to question if I had the wrong door.
The event took place following some pretty left-field research, conducted by the London Symphony Orchestra, the Antique Wine Company and an Oxford University professor of experimental psychology, to discover whether people experience a correspondence between particular wines and specific pieces of classical music, and whether or not this could significantly enhance, or disturb, the drinker's taste of the wine. Is your wine in tune with your ears?Gareth Davies, the LSO's principal flautist, co-presenter of the night and self-confessed wine enthusiast commented: 'Music is designed to evoke emotions and is subject to varying interpretations,' and thus may be tied up with the brain's complex chemistry of taste. He also pointed out that there is no wrong or right answer to the issue since different music means various things to different people.
The four fine wines included were the 2010 Pouilly-Fume Silex Sauvignon Blanc, 2004 Chateau Climens Semillon, 2004 Chateau Margaux and, my personal favourite, 2009 Clos de la Roche Pinot Noir – and each was tasted in combination with renditions of Mozart, Ravel, Tchaikovsky and Debussy performed by members of the LSO.
'When we ask people to pick an instrument, or any notes on the scale that they think match a certain wine, the responses are always consistent and reliable,' said Professor Charles Spence. 'Sweet and light wines are usually associated with the piano, musky with brass, dark chocolate flavours are linked with low-pitched notes and raspberry, fruity aromas with high-pitched.'
Indeed, when he asked the audience to taste a light, fruity white wine and then played a cello solo followed by the flute, virtually everyone in the room agreed, by way of raised hand – bar one sheepish chap in the corner – that the flute was best matched with the wine. Quite what one might draw from this about either music or wine is not wholly clear.
'The biggest challenge,' said Professor Spence, 'is to convince people that specific experiences, environments and settings, from the weather to the type of chair you're sitting on, all affect our particular experiences of wine. People realise it affects them but they refuse to accept it.
'Taste and smell are the most primitive of all our senses, which is why nobody wants to pay attention to them – and that's why they interest me,' he added.
I'm not sure there was anything 'primitive' about the wines we tasted during the evening, but all this musicological analysis of my palette has certainly helped me work up a thirst for an evening at the LSO.
LSO Premier is the LSO's top-level corporate membership scheme offering exclusive access to unique events such as this recital and fine wine tasting