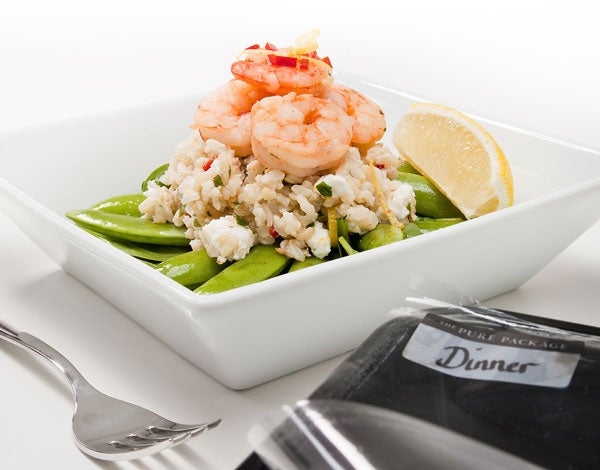 London has gone food delivery crazy. The start-up gods, app wizards and foodie fanatics have ordained that London should follow the route of New York, Los Angeles et al in offering the hardworking public food direct from the chefs to your front doorstep, and as a result, the home delivery industry is absolutely booming.
From bargain burgers to boeuf bourguignon, a meal is now only a tap away, and whether it's a quick bite before a night out or a gourmet dinner party with hard-to-obtain ingredients, there is a service for everything, with minimal fuss and maximum reward.
For those more health-conscious, the Pure Package delivery service sets the gold standard for healthy home meals brought to your house. A 90-day full meal bundle can cost over £3,000, however with individually tailored menus and continual support from nutritionists, it's certainly one way to eat healthily at home in style.
The Pure Package is only the glitzy tip of the culinary iceberg. JustEat, the mainstream local food delivery service, expects revenues to top £200 million in 2015, having cornered every chip shop, kebab house and pizza parlour from Newcastle to Knightsbridge.
Equally staggering is DeliveryHero, the German-owned company behind JustEat's rival HungryHouse, which has just been valued at over $2 billion, helping over 200,000 restaurants in 34 different countries service their customers.
In London, it has ratcheted up a notch. While pizza and sushi will always be a staple of the takeaway diet, Deliveroo has expanded that and now helps Londoners enjoy their favourite dishes from a wide and eclectic range of the capital's best restaurants in the comfort of their own home.
On a smaller scale, Jinn, the exclusive app for London's Zone One, promises to deliver anything from your favourite restaurant within 60 minutes, so if you happen to be sitting in your office in Mayfair craving a rare delicacy from Harrods food hall, you know which button to press.
For the discerning palates of time-pressed individuals hungrier for careers than cooking their own meals, there's even a mini-boom market: gourmet home delivery services.
Deliverance, operating in Canary Wharf and south of the river, offers up a dazzling array of world foods, from katsu curry to Lebanese chicken with kale and quinoa salad.
As an added bonus, alongside the diverse menu cooked up fresh daily by their chefs, all of the ingredients, from the meat to the vegetables, are locally sourced from certified producers, and the meal is delivered to your door within 45 minutes.
Finally, for a dinner party with a punch, look at Grubworkz, the sous-vide meat specialists. Vacuum-packed and chilled to lock in the intense flavours, their restaurant-quality products are delivered for you to enjoy at home. I have it on good authority that the quail confit stuffed with a forcement of apricot and cranberry confit cooked with porcini mushrooms, truffle oil and sage is quite a mouthful (in both senses).
The meat is so specialist that you have to order a week in advance to avoid disappointment, however some of their range does feature in the likes of Selfridges Food Hall for a more last-minute event.
With so many in-house dining options, who needs to go out?