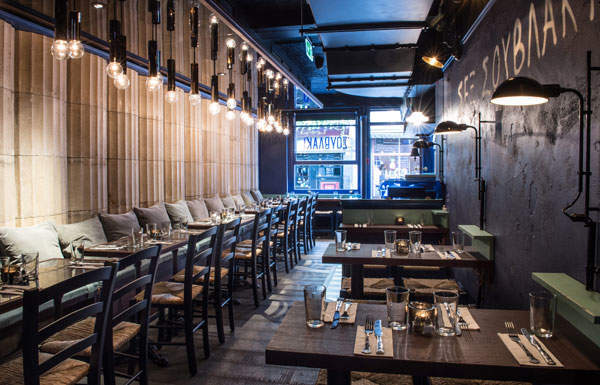 Meat grilled on skewers can be traced as far back as the 17th century BC, and Homer even mentions it in the Iliad and the Odyssey, so London's new souvlaki trend has been a long time coming.
When not one but two enterprises revolving around souvlaki – a Greek fast-food dish of grilled meat on a skewer, served in a pita sandwich with a dressing and salady garnish – were brought to our attention, we decided that this warranted some further investigation.
I went to the heart of Soho, where Yannis Theodorakakos and business partner Michael Kantartzis this week launched their own Athenian grill house: Suvlaki. With a room designed by Afroditi Krassa (known for Dishoom and Sketch), this small space (below) serves unpretentious but delicious souvlaki, cooked over a robata-style charcoal grill.
We started with pork, which was served with tzatziki, then there was a round of chicken with zesty lemon mustard that was perfectly complemented by the bottle of Fix Hellas beer that I had to precariously balance between a skewer and a pita.
I passed on the lamb, but my second wind saw the devouring of the most delicious salty Mastelo cheese (like halloumi) with turmeric sauce and wild boar sausage. And some more Greek beer.
Souvlaki is fast food, but it's not that unhealthy. It tastes delicious, and is just as satisfying served as a quick lunch or a post-drink alcohol sponge.
The second appearance of souvlaki at Spear's HQ came from our office neighbour Tom Calvocoressi of the New Statesman, who launched a souvlaki street stall a year ago with a university friend.
For the wonderfully-named I Should Be Souvlaki, Tom was inspired by the fast food that he had tried on his holidays, but struggled to find back in the UK. Not having yet made the step to full time premises (though these are in the pipeline), I Should Be Souvlaki can be found at pub residences, market stalls and private parties. They're currently at Market House in Brixton.
A souvlaki trend could, at a push, be attributed to the influence of the Greek diaspora. With souvlaki already big in Australia and New York, which both have big Greek communities, it makes sense, he says, that the UK, Greeks' fourth most popular destination, would start to see the effects too.
However, it's far more likely that souvlaki, as a healthy, fast food, is benefiting from the boom in street food. Tom says street food has 'changed the face of eating in London – it's brought a lot more different flavours and experimentation to the food scene.'
With celebrity chefs including Leon's Henry Dimbleby supporting a new venture which aims to open sixteen food markets in next five years across London, I wonder what the next ancient trend will be.
I Should be Souvlaki (Until 7 August at Market House, 443 Coldharbour Lane, London, SW9 8LN)
Twitter: @ISBSouvlaki