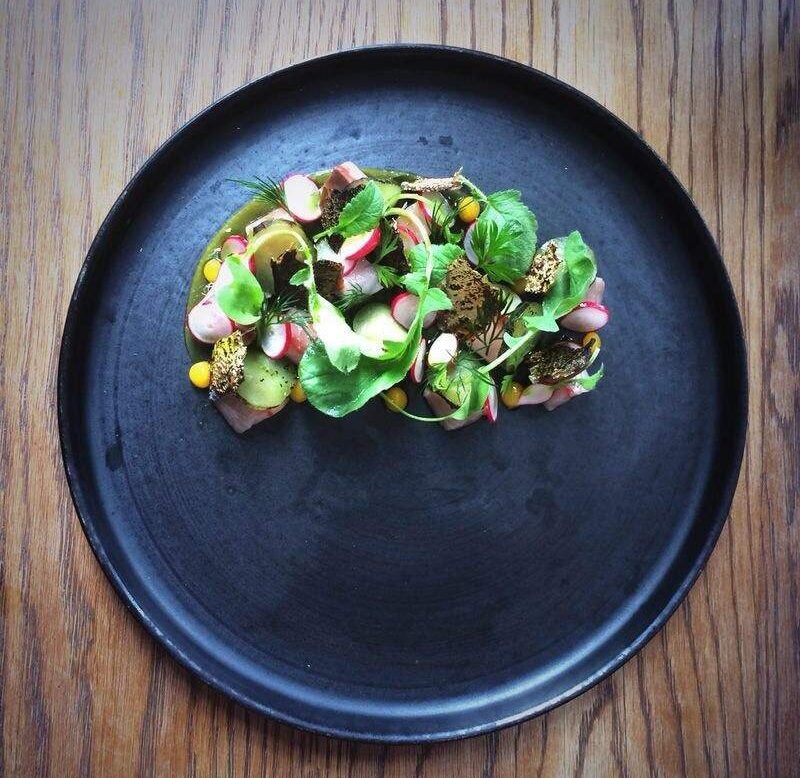 At certain points in your life you will have some very big shoes to fill. That is certainly the case for Lee Westcott with his new venture Typing Room. The restaurant, backed by Jason Atherton, takes over the site formerly occupied by Nuno Mendes's Viajante. Westcott has worked at Per Se and Noma and ran restaurants for Atherton in Hong Kong so he hardly lacks experience. This, however, is very much his own menu and it is good.
The room keeps the same colour palate as Viajante – greys, blues and Scandinavian woods with a dash of white marble on the table tops. It is comfortable, stylish and unobtrusive. The kitchen remains open so you can watch your dishes quietly being created. The staff are very friendly, knowledgeable and accommodating.
What's more I ate one of the best meals of this year at Typing Room and considering you can have the six-course tasting menu for £55 this is really a great option if you want to eat very well for not a huge amount of money. You can also have the à la carte menu if tasting menus aren't to your liking. True, there isn't anything ground-breaking on the menu when it comes to technique or process but the food is of the moment, well thought through and bloody tasty.
As we have now come to expect from restaurants of this ilk, you start with snacks and a little freshly baked bread that came with crispy chicken skin butter. Yes, butter sprinkled with crisp chicken skin and sea salt – gorgeous. I had the chicken wing drumstick with wild garlic, potato and lemon. This is like the most glorious, high-end chicken Kiev you've ever had. Tender chicken coated in breadcrumbs surrounds a burst of wild garlic sauce and is accompanied by a small bowl full of delicately lemony whipped potato that you can – probably rather inelegantly – dip your drumstick into.
This was followed by mackerel with passionfruit, burnt cucumber and radish. Tart passionfruit and oily fish with fresh cucumber and peppery radish is a fabulous combination, not only flavour-wise but also texturally. There were no aggressively predominant flavours, just one harmonious and very summery dish.
This was followed by the least promising-sounding dish on the menu – yeasted cauliflower, raisins, capers and mint. Doesn't sound too great but tastes absolutely phenomenal. This dish was a real surprise and a huge success. Light yet full of depth with a wonderful blend of sweetness, umami and the freshness of the mint. Whichever menu you order, this dish is worth trying.
Brill with heritage tomato, courgette and squid I had a vivid green basil sauce and to sum up it tasted like a holiday in the south of France. Perfectly cooked fish, fresh vegetables and smoky squid. Can't go wrong. The final savoury course was lamb with smoked aubergine, wild garlic, yoghurt and onions. Again, very accomplished but probably slightly less exciting than the other dishes, but really that is a very minor criticism.
Pudding was a – thankfully – fairly normal combination of chocolate and almonds in various forms. So often when you eat out in slightly more experimental restaurants the pudding is the dish that suffers more than any other. I don't want celery in my pudding, nor potato.
This was a nice simple, not overly rich end to what was truly a very splendid long lunch. The food was without fault, packed full of flavour, perfectly seasoned and beautifully presented. The wines from the sommelier were very well matched and great care was taken to ensure they were to our individual preferences.
As I said when I left the restaurant on that rather quiet Saturday – this is a really great place. I genuinely look forward to returning.