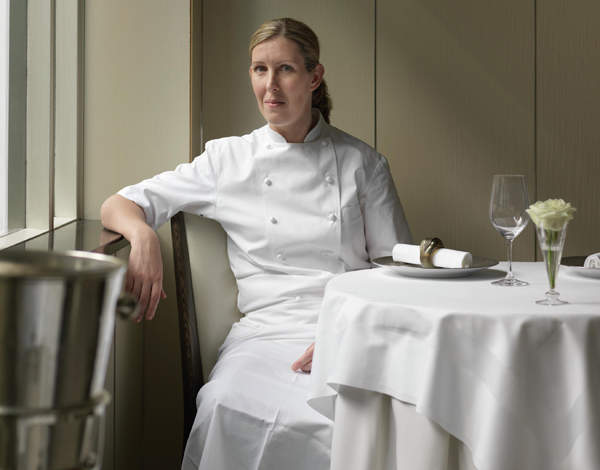 Normally I get up about 7.30. It's maybe quite sad, but the first thing I do is have a cup of tea and check my emails straightaway. I work my way through what I have on there – if there's anything urgent happening – and then I get dressed and go to work.
I don't eat breakfast, because a huge part of my job is constantly tasting everything. I think being hungry as a chef is quite a good thing; you have to taste everything, you want to taste everything. So breakfast is a no-no.
I think I was quite lucky growing up. I didn't realise it until much later on in life that my upbringing was very much based on home cooking and really great ingredients. We lived on a farm, so the animals were butchered and we would've had the whole animal; we worked our way through every cut.
My favourite things growing up were slow cooked: stews and things that were cooked overnight. You would wake up in the morning and the whole house would just smell amazing. My mum used to bake wheaten breads and soda breads. And potato breads and potato farls on skillets.
I live in Battersea, which is just over the river from Chelsea. I travel to work on a scooter because at that time of the morning in London there is so much traffic. It takes me seven minutes from my house to the restaurant, which is fantastic.
I don't think there's less or more stress than when I first started. Although it's quite gruelling and tough through the training stages, as you get more senior in your role, it's a totally different pressure that is on you to perform everyday. And then obviously you're accepting responsibility for everything and everybody, so it certainly doesn't get any easier.
Normally I'll be in the restaurant anytime between eight for meetings to nine. The first thing I do as soon as I walk in the door is check with our reception team what's happening for the day; how many covers we have for lunch, if there's anyone we know. Then I'll go into the kitchen and talk to the head chef about any menu changes and any special menus being prepared.
The guys in the kitchen are already in from 7am. They're already up and running by the time I arrive. It's a very quiet, concentrated environment. There's a real seriousness and focus on what we're doing.
Having achieved three Michelin stars isn't something I ever focus on at all: It just means more hard work and dedication. The more limelight that is on you, the more you have to perform.
The thing that I find the most rewarding is when people say to me, "It's the best meal of my life". That's great, that's the best thing that can happen. Because that is a moment in a person's life that they are going to remember.
I meet with the restaurant manager when they arrive in, talk to them about any issues that we have to deal with. Then I'm in the kitchen again, checking things, and we do lunch service. If you count up service hours, we actually spend about nine hours per day physically in service.
In the afternoon, normally we're working on dish development. Again, I don't eat lunch because I save myself for those tastings. You have to eat the whole dish – you can't just eat a part of it because you have to know what the sensation is of eating the whole thing, like a guest would.
We need to make sure it's absolutely perfect before it goes onto the menu. So we're always working on something. We're always searching for new products and testing things. That's actually a really big part of what I do.
I think one of the things I really learnt from Gordon is discipline and management. He's one of the best managers I've ever seen. The systems and the discipline he installed in the kitchen enabled us to have such consistency in what we were doing. You have to be really on the ball to work for him, you have to really be sharp. I love that and I really thrive in that environment.
A lot more men than women choose to go into the industry. People ask me about it quite often. But I've got five other girls in my kitchen out of a team of fifteen chefs and it's one of the toughest kitchens there is.
The girls I have in my kitchen, they are exactly the same as the guys. Being in the right environment has got a lot to do with it as well. But then I would always say if you're in the wrong environment, just get out of it and get into the right one.
At midnight after the dinner service is finished, I'll talk to my head chef Matt about any orders I want for anything we're doing the next day.
I'll finish about twelve. I'll get home, jump in the shower, cup of tea. I'm quite lucky my partner doesn't work the same hours as me – he works in finance. But he gets up when I come in and makes me tea and we chat.
Then I watch the news, to find out what's happening in the actual real world. I won't sleep if I haven't switched myself off so I have to do that. Normally I'll try to be in bed by about one in the morning.
We work really hard Monday to Friday and are completely focused on the restaurant and then at the weekends it's actually closed, so you have a complete break. There's no worry about it being open and not being there.
Apart from going out and catching up with friends, I do a bit of gardening, I grow some of the stuff myself for the restaurant at home. But because I'm so into what I do and I always have been, I don't really feel that I've made sacrifices. I've got out what I've put in, for sure. And it's definitely paid off. I would have done it twice again to do what I do now because I enjoy it so much.
As told to Aoife Moriarty.