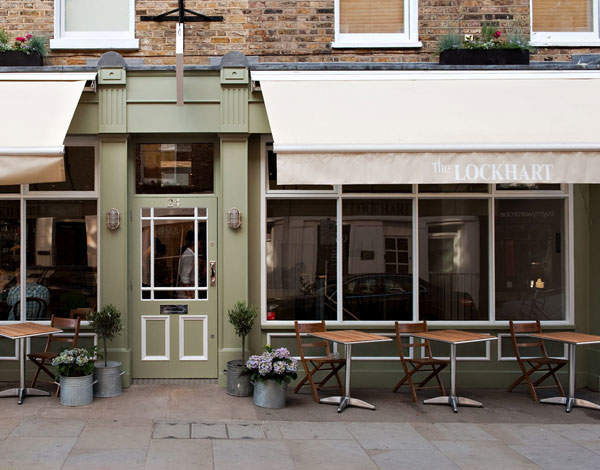 If you thought that the trend for American-style food stopped with burgers and dirty fast food you were very wrong. After burgers came food from the Deep South (via a horrible detour to Kelly Brook Island aka Steam & Rye).
The past few months have seen a rise in the popularity and indeed number of 'soul food' inspired restaurants.
Yes, some have been here for a long time – Outsider Tart, for example, has been serving up big, homely American food in their cafe, Blue Plate in Chiswick for what seems like an age now, with its chili and meatloaf nights doing big business.
Pitt Cue Co, Beard To Tail and many others have also been doing their take on the American BBQ for a few years but there is a new wave of Americana rolling in.
Restaurants are now giving diners refined southern food, from gumbo to grits in slightly swishier surroundings. Lockhart (pictured above) is leading the pack and has received glowing reviews in the press.
Brad McDonald, a Mississippi-born bearded wonder, took over as head chef and has created a menu of refined southern inspired food including shrimp and grits, fried chicken and muffuletta – the most gorgeous hulk of a sandwich filled with salami, ham, mortdella, olive salad and provolone.
I went back in January and it really was a great evening of punchy flavours, friendly service and memorable food. With smooth, silky grits and the most beautiful, golden, crispy but sticky cornbread you'll taste, plus a good selection of American wines, it has set the bar rather high.
Others are trying to throw in a bit of southern flair, like the newly revamped Avenue on St James' – a white table-clothed place, with high ceilings and a very grand room. This isn't American comfort food in a casual setting, they are aiming to vamp it up a bit.
They have a few successes on the menu – the scallop cerviche is lovely and the corn softshell crab with avocado and a chipotle mayo is also very tasty, however, they are not yet in the same league as the Lockhart.
The kitchen may well just be settling in, so given a few months it might be much better. Right now it lacks the depth of flavour, technical skill and quite frankly love that Brad McDonald puts into his food.
With Southern food, the attention and care given to each dish during the cooking process seems to make such a huge difference – not that it doesn't with other types of food but I'm sure you appreciate where I am going with this.
Those at The Lockhart and Outsider Tart have a genuine passion for the food they are creating and derive huge pleasure from sharing the food they grew up on with a new – and currently captive – audience. Those joining the southern game in London need to match if not beat that level of dedication if they want to steal custom from these southern American gems.