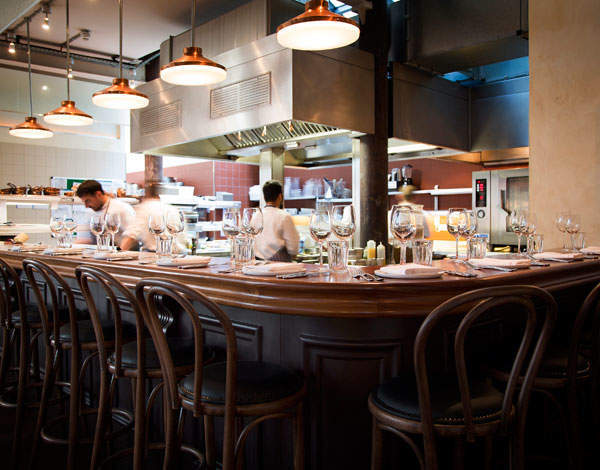 Bars used to be the domain of dubious nuts and soggy crisps. Things, however, are changing. They are now both the saviour of single diners and a way to peek directly into a kitchen. Either way, bar food is on the up.
Having enjoyed many a meal on my own in a restaurant I am acutely aware of how awkward everyone else feels for you, even if you yourself are perfectly happy. They worry you have no friends. Or that you've been stood up. Either way, they fear tears – and tears do not mix well with dinner. I thoroughly enjoy making those onlookers feel even more uncomfortable by not taking a book and staring directly at them. It is the ultimate way to people watch.
In New York, however, it is perfectly acceptable to eat alone, similarly in Paris where you see many a solo diner enjoying a glass of wine with their meal. Thankfully, London is starting to gear itself up for the lone muncher. Places like Polpo, Café Murano and Grain Store have stools running along their bars, where diners – not just drinkers – can sit in ones, twos or more and happily eat from the main restaurant menu.
The empty chair and unused place setting on the other side of the table no longer exists, the question of you waiting for someone else is removed. You can quietly enjoy your meal and perhaps make a new friend or two in the process. It is empowering and genuinely rather refreshing.
This set-up is becoming increasingly common over here but, more interestingly perhaps, restaurants are placing bar counters in front of and around their kitchens. Open kitchens are nothing new but the trend for placing your punters in direct contact with the kitchen is certainly growing. This is the sociable reinvention of the kitchen table – something that has been thriving over the past few years.
These aren't separate rooms with private access and views into the kitchen, but rather bars in the main restaurant space allowing you to both interact with the chef and the rest of the restaurant.
Merchant's Tavern has recently launched their Kitchen Counter, which has space for ten diners. The smooth wooden bar runs around the edge of the open kitchen so you are literally 30cm from the action. You can choose to dine from the à la carte menu but if you have any sense you will take the second option, which is to have Neil Borthwick create a special selection of dishes just for you. At £50 for five courses or £65 for seven it isn't even ridiculously expensive.
You have been able to watch your pudding being created in front of you at Pollen Street Social for a good while now with their pudding bar, but this is a step further along. I like it. You get to be doubly nosey, ask questions and enjoy the buzz of the dining room.
To me this is the restaurant equivalent of sitting on the counter top while your mum cooks you dinner. Long may it continue to grow in popularity.