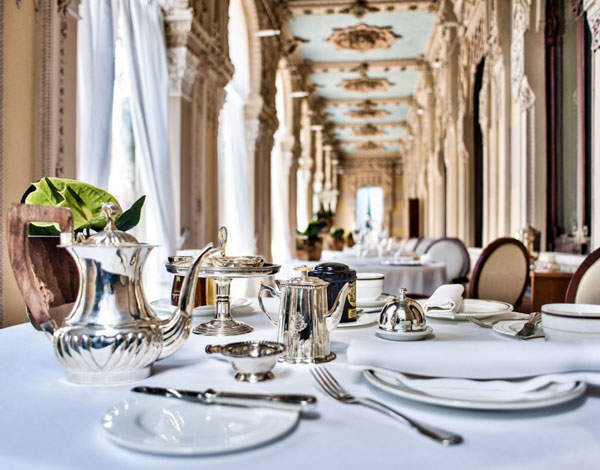 The Italian lakes are an area of exceptional natural beauty, lined with sumptuous villas of the aristocracy. The area has a few restaurants tucked away that match the scenery in quality, none better than Villa Crespi.
A short walk up the slope from the banks of Lake Orta, the restaurant is set within a 19th century Moorish-style villa featuring particularly beautiful stonework. At the back of the villa is a terrace looking out to a lovely garden.
Here head chef Antonino Cannavacciuolo and his team produce classical two-star Michelin Italian food, making the most of the excellent ingredients that abound in the area.
An example of this is a starter of a skewer of langoustines and scallop with spring onion and lemon, served with shredded celeriac and a centrifuged Granny Smith apple sauce. The shellfish is superb, the scallop and langoustine having lovely inherent sweetness and are lightly cooked, the apple providing useful balancing acidity.
Innovation in the cooking can be seen in certain dishes. Red mullet with turnip tops, mash and smoked cheese is an unusual flavour combination, but the cheese is carefully restrained, the turnip tops provide a good balance to the rich mash, and the fresh mullet is perfectly cooked and accurately seasoned.
Another example of the lovely fish available in this area is seen in a cube of excellent tuna topped with tartare sauce, capers and a stunningly intense veal broth. Spezzatino is usually a meat stew, but here is made from a medley of prawns, scallop, langoustine, sea bass, turbot and clams. This is served with courgette cream, the quality of the seafood immediately apparent.
A successful main course is pigeon with warm foie gras, cocoa beans, beetroot, foie gras sorbet and Banyuls sauce. The pigeon is precisely cooked, the foie gras silky and the sauce suitably rich.
Your meal might finish with an array of little dishes such as chocolate flavoured with raspberry, peach ice cream, basil sponge and ricotta bavarois with cherry jelly.
To accompany the food there is an extensive wine list, with 250 champagnes and over 1,000 different labels in total. Service is run by the chef's wife Cinzia, with waiters who are friendly, helpful and attentive.
Villa Crespi is a lovely spot making the most of the fine local produce, all in a gloriously beautiful part of the world that is barely an hour's drive from Milan.