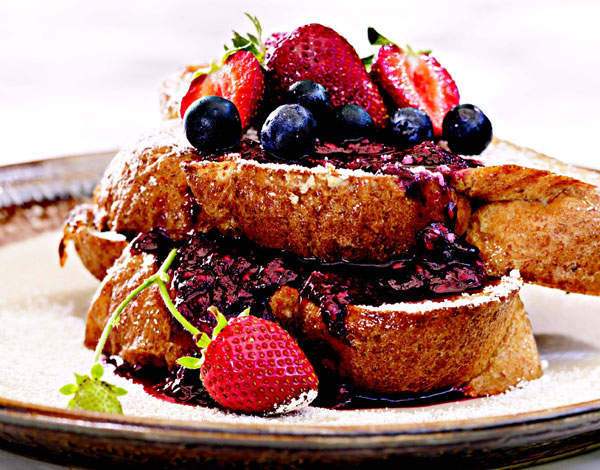 A little something for the weekend from Wolfgang Puck's new cookbook Wolfgang Puck Makes It Healthy (even if this recipe does still sound like it might be a touch naughty).
Buttermilk French Toast with Fresh Berry Compote
Serves 4
Ingredients
French Toast
2 large eggs, lightly beaten
2 large egg whites
2 cups buttermilk
1 tablespoon honey
1 teaspoon pure vanilla extract
1 teaspoon ground cinnamon
1 teaspoon ground ginger
1/8 teaspoon freshly grated nutmeg
¼ teaspoon kosher salt
8 slices good-quality whole wheat bread, each about 1 inch thick, halved diagonally
Butter-flavored nonstick cooking spray
Fresh Berry Compote
¾ cup fresh blueberries
¾ cup fresh raspberries
3 tablespoons honey
1 tablespoon grated orange zest
3 ounces fresh orange juice (from about 1 large orange)
Pinch of kosher salt
To Assemble
Confectioners' sugar, for dusting (optional)
Fresh berries (optional)
For the French Toast
In a large, wide bowl, whisk together the eggs, egg whites, buttermilk, honey, vanilla, cinnamon, ginger, nutmeg, and salt.
Over medium heat, heat a heavy nonstick skillet, or a pair of skillets, large enough to hold all the French toast slices in a single layer without crowding. Dip the bread slices into the egg mixture, turning them and making sure they are completely saturated.
Spray the heated skillet or skillets with non-stick cooking spray. Add the soaked bread pieces and cook until golden brown on both sides, five to seven minutes total.
Meanwhile, prepare the fresh berry compote: in a nonreactive saucepan, combine the blueberries, raspberries, honey, orange zest, orange juice, and salt. Bring to a simmer over medium heat, stirring occasionally, and continue simmering just until the berries have given up some of their juices and have turned slightly syrupy, three to four minutes. Transfer to a serving bowl and keep warm.
Assemble the dish: Arrange two slices of the French toast on each of four heated serving plates. Spoon some of the compote over each serving. If you like, spoon a little confectioners' sugar into a small, fine-mesh sieve held over each plate and tap the sieve lightly to dust the French toast, then garnish with fresh berries. Serve immediately, passing more fresh berry compote at the table.