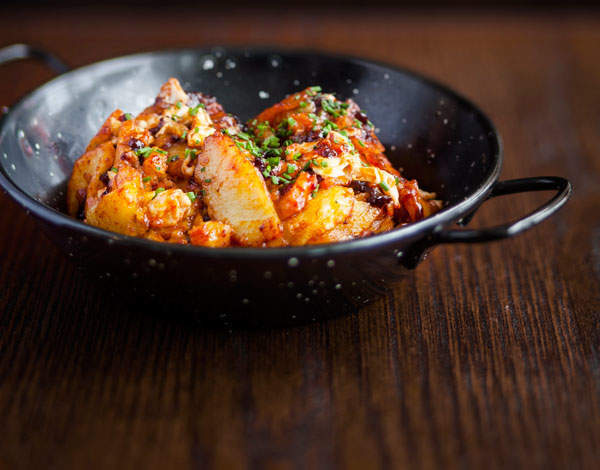 Next week Brindisa turns ten years old. To celebrate they are offering their customers their top ten classic tapas dishes at the prices they were ten years ago. So if you fancy getting your hands on some Padron Peppers, Grilled Chorizo or Garlic Chilli Prawns at 2004 prices, head to Brindisa from 13-19 October. If you'd rather stay in, though, their executive chef Josep Carbonell has given us a simple supper dish from the Brindisa kitchen: huevos rotos with iberico sobrasada (tapa for 2 people).
2 large eggs
50g Iberico sobrasada
200g potatoes, peeled and cut into 3mm slices
Chives, chopped
Salt
Pepper
Extra virgin olive oil
1. Fry the potatoes in a pan with olive oil, until cooked through (about ten minutes), drain and pat dry with kitchen paper.
2. Heat a little olive oil in a pan, stir in the sobrasada and fried potaotes to warm through. Remove and place in a bowl.
3. In the same pan add another teaspoon of olive oil and fry the eggs slightly. Once lightly fried add them to the bowl and combine with the potatoes and sobrasada. It should be juicy. Place on a plate and sprinkle with chopped chives. Add salt and pepper to taste.