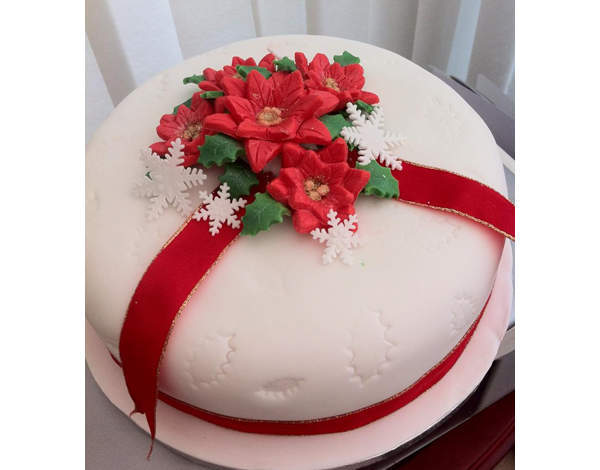 You can't have Christmas without Christmas cake even if, like me, you are mainly in it for the marzipan. Yes, you could buy it and there are some great ready-made cakes out there, but it is much more fun to make your own. Besides, it fills the house with the most wonderful festive smell.
If you are planning on making one and haven't already done so you should do it this weekend as Christmas cakes need a few weeks to sit, slowly getting sozzled on brandy before you start to decorate. To help you out here is the recipe we've used in the Rookwood household for the past few years – credit to my sister for this one.
225g plain flour
1 tsp (if not a little more, we like a nice spicy recipe in our house) mixed spice
1 tsp (if not a little more, once again) ground cinnamon
¼ tsp salt
200g butter
200g dark brown sugar
1 tbsp marmalade
2 tbsp black treacle
¼ tsp vanilla essence
4 free-range eggs, beaten
800g mixed dried fruits (preferably including cranberries, apricots and dried figs for a bit of luxury)
50g chopped mixed peel
50g chopped stemmed ginger in syrup
100g glace cherries, rinsed and halved
100g blanched almonds, chopped
A splosh of brandy or the booze of your choice
If you want a beautifully moist and boozy cake soak the dried fruit overnight in a little brandy (or the tipple of your choice).
Pre-heat the oven to 150C and thoroughly grease the tin (if you're going round, you will need a 20cm/8inch tin, or if you prefer a square cake go for a 18cm/7inch tin).
Line the bottom and sides with baking parchment. It is best to have a few layers of parchment, so fold over a few times.
Cream the butter and the sugar in a large mixing bowl until light and fluffy before mixing in the treacle, marmalade and vanilla essence. Beat again thoroughly.
In another bowl sift your flour, salt, mixed spice and cinnamon together.
Add the eggs bit by bit to the butter mix and add a little of your flour mixture with the final bit of egg. Fold in your remaining spiced flour into the mixture until fully incorporated.
Then stir in the drained soaked fruits, nuts, peel, chopped ginger and cherries. It is customary to make a wish at this point while doing a very dramatic stir of the cake mix with two hands. Well, that is how we do it in our house anyway.
Dollop the mixture into the greased and lined tin. Wrap the tin in folded newspaper (two or three layers) and tie with oven friendly string.
Bake in the oven for three hours and then test with a skewer. The skewer should come out clean. If it comes out with cake on it, bake for up to another hour but make sure to test regularly.
Remove from the oven and leave to cool in the tin for fifteen minutes before turning out on to a wire rack. Leave to cool completely.
Once cooled, make several holes with the skewer and feed the cake with a little brandy.
Then wrap it up tightly in foil and keep somewhere cool. Some people will tell you to keep it in a tin but ours is always just out on the sideboard wrapped in its festive foil jacket. Every week or so feed the cake with a little more brandy, just so it is good and moist come Christmas.
The week before you want to eat your cake you need to ice it. Turn the cake upside down so the flat bottom becomes the top – it is easier to ice neatly this way. Warm up a little apricot jam and cover the cake with a thin layer. Either roll out, or buy ready rolled, marzipan (use icing sugar to stop it sticking to the rolling pin) to around 0.5cm thickness. (I am not allowed to do this stage at home because I roll the marzipan too thin in order to eat the leftovers.)
Allow the marzipan to dry out for a few days before repeating the process with fondant icing.
Decorate as you fancy – if you're lazy I highly recommend a festive ribbon – and voila!