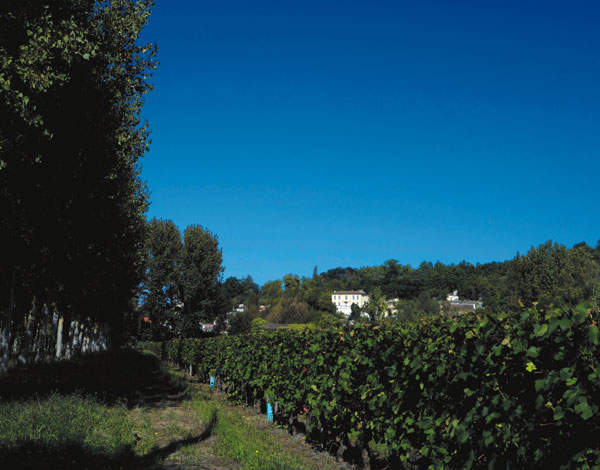 Author: Chloe Barrow

WORKING DOMAINE'S CLUB
At last, a chance to enjoy the fruits of owning a vineyard without having to put in the graft
The idea of buying a vineyard in the Bordelaise region evokes a wonderfully French pastoral idyll — un grand rêve that many wistfully ponder but few put into action. For as charming as this earthy, grape-stained romance may sound, a project of this genre requires a great deal of time, energy and expertise, making it an unrealistic ambition for all but the most committed of wine adventurers.
Members of the prestigious Le Grand Société du Château Bellevue club, however, seem to have found a good compromise, enjoying all the trappings of owning a vineyard — a decent selection of fine wines each year, access to beautiful south-western French terrain and an association with an exclusive brand, along with the added benefits of five-star entertainment — without all the slog of actually having to manage such a venture.
The brainchild of HNW entrepreneur Tim Griffiths and partner Jean-François Boras, wine producer and owner of Domaine de Bellevue, the Société has attracted some big-name members, including the Earl of March.
Read more on wine investment from Spear's
'This was originally supposed to be a bit of fun for me,' says Griffiths, who has been collecting wine for 30 years. 'But the wine was such good quality that we decided to take it to people outside Bordeaux.'
For Boras, however, originally from Dordogne and with a fifteen-year career in management consultancy behind him, it had been a lifelong dream to own a vineyard in Bordeaux. He bought and replanted the entire Domaine de Bellevue vineyard, a Herculean task he refers to as its 'renaissance'.
'It was a big change, but it's a progressive thing — you don't just wake up one morning and decide to buy a vineyard, you have it in your mind for a while,' he says. 'Eventually you just lose motivation for what you're doing and decide this isn't the lifestyle you want. Then you start acting on changing that.'
Read more on wine tasting from Spear's
When Griffiths invested in the vineyard, the big challenge was how to continue to raise money to develop the vineyard and keep it going. 'We had no brand — nobody had ever heard of a great wine from Côtes de Bordeaux Cadillac. So we created this private members' club where you pay £10,000 over five years.'
Members are treated to 36 bottles of wine a year with personalised wax seals, the opportunity to participate in the grape harvest and events such as last year's black tie dinner with a boat ride up the Garonne, plus ready access to the vineyard's stunning grounds. 'We really encourage our members to visit the vineyards and take part. It's become quite a wine pilgrimage for people,' says Griffiths.
Griffiths and Boras currently look after 80 members and are looking for more to join. 'We meet all our members for dinner, taste the wine and answer any questions they may have,' he says. While this small-scale société may sound very exclusive, there's no need to be referred by a current member as you might expect. 'A lot of our members are introduced by others but I'd say over half have contacted me directly.'
Fresh start
Apart from the obvious benefits enjoyed by members, Griffiths explains that there's also a real excitement about being associated with an emerging story in Bordeaux.
'This very rarely happens,' he says. 'Domaine de Bellevue will obviously appeal to people who are interested in wine and in France, but most importantly to those who are interested in getting involved with stakeholders in the vineyards of Bordeaux, which again is a rare opportunity.'
Griffiths and Boras aren't looking to increase and commercialise wine production because, they say, this enables them to maintain a sense of absolute exclusivity. 'We only produce 7,000 bottles a year,' says Griffiths. 'To give you an idea, Château Margaux produces 300,000 bottles a year — so it's a different concept.'
For this reason, the club will grow to no more than 120 members, so those interested in hopping aboard the Domaine de Bellevue wine wagon should do so quickly while there are places left.
For membership information, contact Jilly Onisto on 07960 839766 or at jilly@bellevue-cadillac.fr, or visit bellevue-cadillac.fr