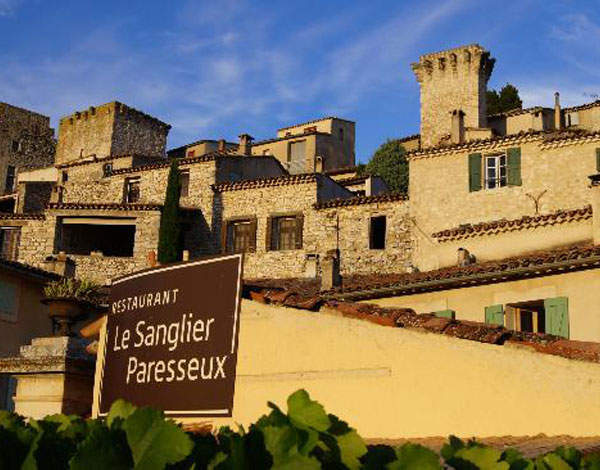 All eyes this week are on Cannes this week and the beautiful people strutting around in science-defying dresses. It therefore seems appropriate to celebrate all the things they can't enjoy.
In other words – great food. I've pulled together five of my favourite restaurants in the south of France, all within driving distance of Cannes, should you be in that neck of the woods now or over the summer. From beautiful views – of both people and places – to Michelin stars, we have it all covered.
La Colombe D'Or
This hotel is famous for its regulars – Matisse, Miró and Picasso – and their artworks can be seen on the walls. It is a beautiful little place tucked away in St-Paul-de-Vence and if we are being completely honest you come here for the history more than the food.
The food is traditional Provencal and you can eat out on the terrace so when the sun is out and you want to enjoy a little history, culture and seclusion there really is no better place.
Place Géneral de Gaulle, 06570 St-Paul-de-Vence, (00 33 4 93 32 80 02; www.la-colombe-dor.com).
La Closerie – Ansouis
Ansouis is a beautiful little town surrounded by lavender and sunflowers in the summer. La Closerie has long been a favourite with the locals and has recently been awarded a Michelin star. It was hard enough to get a table before so reservations are now a must. The chef trained at the Intercontinental in Cannes and turns out consistently wonderful dishes using local ingredients.
There is a small terrace across the road from the main restaurant, which surprisingly for such a small place has a chef's table, but considering how quiet Ansouis is this is not a problem. Great food and reasonably priced given the quality.
Hotel Crillon le Brave – Crillon le Brave
The terrace of the main restaurant in this hotel juts out from the main building and overlooks the beautiful swimming pool and sweeping views of the Vacluse. Chef Jérôme Blanchet has a Michelin-starred background and produces a provencale style menu.
There is also Bistrot 40K, which sources all its ingredients within a 40-kilometre radius of the hotel. The restaurants celebrate local produce and serve their food with local wines including Gigondas, Vacqueyras and Châteauneuf-du-Pape.
www.crillonlebrave.com/restaurant-jerome.htm
Restaurant Joel Robuchon/Yoshi/Odyssey at the Hotel Metropole (pictured top)
The hotel Metropole in Monte Carlo boasts not one but three Joel Robuchon restaurants including the one Michelin starred sushi restaurant, Yoshi, his two Michelin starred Restaurant de Joel Robuchon and the wonderful poolside Odyssey, which opens its doors to the general public again in June.
So regardless of what you feel like eating – be it sushi, rich and refined French cuisine or local fresh dishes such as Pissaladière there is something for all tastes. At this time of year sitting in the Karl Lagerfeld designed pool are people of the Metropole eating fresh, local food and indulging in some serious people watching is pretty much as good as it gets.
Le Sanglier Paresseux, Caseneuve
This little restaurant was a recent holiday discovery from my parents. Tucked away to one side of the road in a tiny little village there is a glorious terrace with sweeping views of the Luberon and the Vaucluse mountains. Brazilian chef, Fabricio Delgaudio has worked with Alain Ducasse and Yannick Alleno before opening his own restaurant here in the south of France.
The food is modern, seasonal and inventive and great value at four courses for €41 and three courses at lunchtime for only €25.