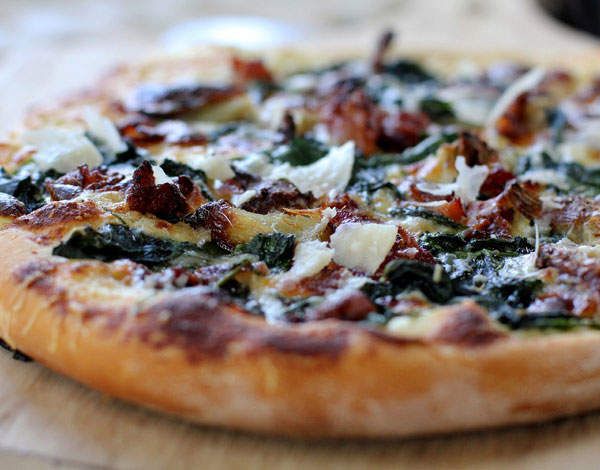 In honour of the pizza oven Uuni , which I recently discussed – and the good weather – here are a few suggestions for some great pizza toppings plus, of course, a basic dough recipe.
Read more recipes from Spear's Food Friday
Pizza dough
500g strong white flour
One sachet of dried yeast
1 tbsp olive oil
7-10g of salt depending on your taste
Enough tepid water to make a soft dough
This is a very basic bread dough: Mix all of the ingredients together, knead for ten minutes until very smooth and allow to rise. I don't find pizza dough needs to prove twice, once seems to be enough.
You can, of course, use your sourdough starter to make the dough should you wish – Franco Manca in London uses a sourdough base for their pizzas and very good they are too.
Once you have your dough ready, here are a few suggestions for toppings that don't include tomato as I'm sure you can come up with your own tomato based toppings.
White pizza with chicken, potato and rosemary
You can make a béchamel sauce for the base here, but it's much easier is to mix some mascarpone or ricotta cheese with a little nutmeg, salt and pepper and spread over the base of your pizza. Slice some pre-boiled new potatoes and red onions into thin slices (these crisp up brilliantly in the oven) and scatter over.
Add some roughly torn cooked chicken, some chopped rosemary – though only a little so as not to overpower – and should you wish add a little extra cheese. I often add parmesan. Cook until all golden and bubbling and the base is crisp.
Spinach, ricotta and egg pizza
In a wide pan, wilt down your spinach and some minced garlic in a little olive oil. Then pat the spinach dry and squeeze out any excess water. Add the spinach to a good few tablespoons of ricotta, some grated parmesan, a little nutmeg, salt and pepper and combine.
I like to do this in a small food processor. Spread over the base then crack an egg onto the middle. Pop into the oven until the base is crisp and the white of the egg firms up. You should be left with a little runny yolk inside. You can add a few toasted pinenuts and some basil should you wish. Simple and delicious.
Tarte Flambée
Technically, this is not a pizza – it is the Alsatian version of one. You can use the same dough, though, so I am including it here. In a pan slowly soften a large amount of white onions (adjust the amount to the size of your pizza – you need a good covering) and to the softened onions add a generous amount of lardons. Cook through.
In a small bowl mix crème fraiche, salt, pepper and nutmeg. Spread this over your base before covering with the onions and lardons. Pop in the oven and voilà – a perfect lunch dish for a sunny weekend.