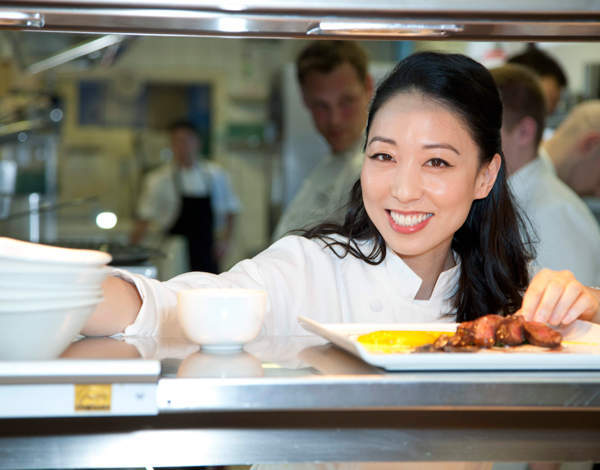 Life is short, but you always have time to reinvent yourself.
Well, it really depends on how you spin it. Some would say I am inspirational and bold. Others would say I haven't really reinvented myself, but rather suffer from an acute case of ADHD.
I say, I followed my heart, and at different times in my life, it led me onto different paths. After all, we are human and have changes of heart. It depends on whether or not we choose to listen to what our hearts have to say.
I started university dreaming of becoming a research scientist like Marie Curie, but I barely survived my studies so I switched my focus in disheartened defeat and looked to the financial services sector for solace. I duly embarked upon a career trading and selling fixed income derivatives for a bulge bracket firm.
I entered the rat race of Wall Street, and it quickly proved a work hard, play hard existence. I hardly slept, travelled constantly (albeit in style), ate and drank in the best restaurants around the world, and was paid handsomely for my dedicated efforts.
After a while, though, I found myself asking what I was running towards. A paycheck? Status? Bragging rights? All of my dedicated efforts seemed tragically halfhearted and I realised that money was not my sole motivating factor. I also didn't harbour any strong affinity towards the markets at all. I had an epiphany and made a rather drastic decision to follow my heart and pursue the culinary arts.
Everyone said I was crazy. But I persevered and enrolled in a cooking school. My parents freaked out a bit as well, questioning why they spent so much money on my Ivy League education for me to go into a blue-collar industry.
I pretty much ignored them and found my first 'job' working in the test kitchens of a well-known food magazine for no pay. The rate of return on my investment in cooking school versus my engineering degree proved stark.
But fast-forward ten years and I am now cooking on television, about to publish my first book and running my own restaurant. Am I being financially rewarded akin to my days on Wall Street? Hell no. Not even close. But, I have found my passion, and I love what I do. In short, my trade is close to my heart.
It all sounds very romantic. But, trust me, it is hard work. The hours are long. Stress levels are high. The pressure is intense and sleep is scare. It is like being in finance all over again, but I'm doing service instead of trade.
The restaurant industry is brutal and it takes a lot to survive. Competition is fierce and customers are fickle. Like working on a trading floor, kitchens are a pressure cooker and a heart attack of an existence.
And, it is always hard to introduce a new cuisine to consumers. Korean food proves to be particularly challenging, as people don't seem to even know where the country is located. People have certain expectations and don't understand the flavours, they question and even criticise the basics.
You have to grow a thick skin quickly and try to concentrate on the business and not get distracted. You'll never have a 100 per cent approval rating in anything that you do. Haters lurk everywhere – bloggers, critics, Twitter – who gladly and coldheartedly rip apart your work with zeal. It's heart breaking, and soul sucking. But it's part of life unfortunately.
Despite it all, I hope to educate my diners and provide them with a memorable and delectable meal.
Sometimes, I do question my career change (as others do). They question the hours, pay, stress, exposure, risk. And, I wholeheartedly agree that it is not an easy existence. Sometimes it is thankless and exhausting. But would I do it all again? In a heartbeat.
Judy Joo is an American chef and television personality, and the executive chef at Jinjuu restaurant in London