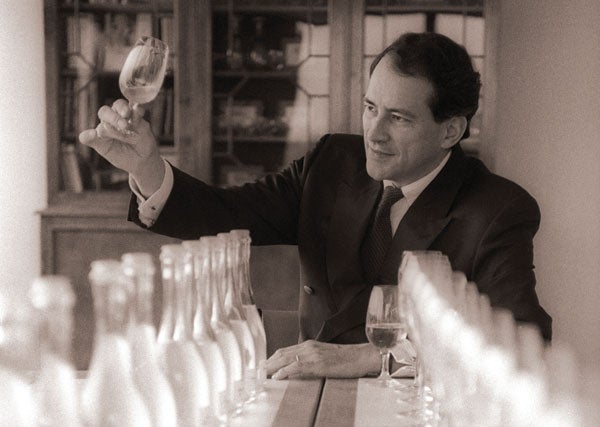 Can it really be true that there was a spike in champagne sales after Jeremy Corbyn succeeded in his bid to lead the Labour party? If so, I wonder who was buying said fizz: jubilant left-wingers in Islington seeing one of their own triumph? Or mightily relieved Tory grandees in the Shires savouring the thought of another twenty years in power?
Either way, long before this alleged Corbyn effect, sales of champagne, that sure-fire barometer of our national economy, were on the up. Indeed, they rose 6.1 per cent in the UK last year. We imported 32.6 million bottles of champagne in 2014, a full 71 per cent ahead of our nearest rival, the US, and we now drink more champagne than anyone else except the French themselves. It makes me proud to be British.
Champagne might only account for 0.4 per cent of the world's total vineyard area (and just 4 per cent of France's), but in producing 337 million bottles a year it represents a respectable 13 per cent of the world's consumption of sparkling wine. Of course, this figure is dwarfed by other sparklers such as Cava, Sekt, Asti, Prosecco and so on, which account for millions more bottles. But, well, they're not champagne, are they?
The healthy demand for their product has put a spring in the step of the 16,000 growers and 320 champagne houses, and talk about expansion of the appellation has got louder. But haven't the Champenois spent decades telling us that only wine made from the authorised grape varieties, by the traditional method, within the designated area of Champagne, can be called champagne and that anything from outside the region simply isn't good enough?
'It's not the boundaries of the region which are being revised,' Bruno Paillard, champagne producer and president of Comité Champagne's commission on the issue, assures me. 'What's happening is inside Champagne. The fact is that before the combined forces of phylloxera, the Russian Revolution and Prohibition, which closed two major export markets, and two world wars, the vineyard area in Champagne was far greater than it is now, around 100,000 hectares compared to the current 33,000.'
The appellation was developed when sales were poor and prices low, and the fact is some vineyard sites and villages were included that shouldn't have been and others weren't included that should. What is planned now should redress that. The Champenois are redefining their region, in the course of which, yes, it might grow. The trouble is that they were slow to discuss this and the message got confused.
'We are just trying to fill in the gaps,' stresses James Simpson MW, MD of Pol Roger UK. 'The final figure for growth will probably be between 5 and 10 per cent of the current maximum appellation. Some of this land will come from villages which didn't bother to apply for the appellation in the first place, and some will come from filling in small parcels within existing vineyard areas.'
Soil analysis is much more advanced now than it was, and as well as new vineyards, several existing ones deemed not to be up to snuff will be declassified.
'It will take a generation to finalise the new map,' says Paillard, 'and probably two more generations to plant the new land. But it will definitely result in better quality overall.' The point is that if the Champenois don't do something, they will reach a stage where there just isn't enough wine to satisfy demand.
'The vineyard growth should allow champagne to remain relatively affordable,' adds Simpson. 'It remains a luxury, yes, but an attainable luxury. The quality of winemaking and winemaking kit has never been better and the vineyards never healthier.' If the proposals mean more of the same, with demand satisfied and prices low, then who are we to argue?
SIX OF THE BEST PRESTIGE CUVÉE CHAMPAGNES
2006 Jacquart Cuvée Alpha
£85; Great Western Wines
The excellent Jacquart co-operative celebrated its 50th anniversary last year. This, its prestige cuvée, is an equal blend of Pinot Noir and Chardonnay, matured on the lees for six years, and is marked by elegance, roundness and suppleness with notes of biscuit, toast, nuts and dried orange peel. Utterly charming and great value.
2006 Taittinger Comtes de Champagne Blanc de Blancs
£85; Fine & Rare
In the first James Bond novel (Casino Royale), our hero tucks into 1943 Taittinger Blanc de Blancs. 'That is not a well-known brand,' Bond says, 'but it is probably the finest champagne in the world.' The 2006 version is enticingly fruity at first sip, developing more complex, toasty, peachy notes on the finish. I love it!
2004 Sir Winston Churchill Cuvée Pol Roger
£105; Justerini & Brooks
I'm fortunate enough to have the 2000 and 2002 vintages and I'm thrilled to have grabbed some of the 2004 too. Made in tiny quantities from the best Grand Cru vineyards, this Pinot Noir-dominated wine has been aged on the lees for ten years and is a byword in concentration and power. 'My tastes are simple,' declared Churchill. 'I am easily satisfied with the best.' The great man would have loved this.
1999 Bruno Paillard Nec Plus Ultra
£125; Hedonism
Champagne Bruno Paillard was only founded as recently as 1981, and the 1999 NPU is only the fourth vintage of this exceptional, barrel-fermented champagne. A half-and-half blend of Pinot Noir and Chardonnay, it's bold and aloof but also honeyed and welcoming. Grab this gloriously complex, meticulously aged beauty while you still can.
2002 Gosset Celebris Vintage Extra Brut
£125; Berry Bros
Gosset is famous for being the oldest wine producer in Champagne. It's also famous for the fabulous quality of its fizz, the pinnacle of which is the Celebris. It has spent ten years on the lees and benefits from a very low dosage of just 5 grams per litre, the better to appreciate the purity of the fruit. A wonderful initial citrus freshness is followed by notes of ripe pears and a hint of brioche.
2002 Piper-Heidsieck Rare
£175; Harrods
Given that head winemaker Régis Camus has been Sparkling Winemaker of the Year at the International Wine Challenge eight times and this vintage of the Rare is a double gold medal winner, it surprises me that Piper-Heidsieck doesn't get more acclaim. This 30 per cent Pinot, 70 per cent Chardonnay is a remarkable wine. Aged for seven years, it's rich, generous and a marvellous food wine.