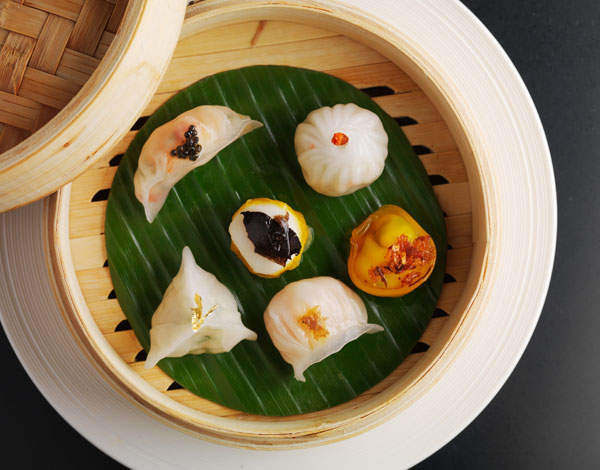 Last time I dined in Harrods I got stuck in a back stairwell. This time I got locked in the men's swimwear department. Oh, how I enjoyed roaming around the trunks and bermudas at 8pm night while the owner of new Chinese restuarant (with a bit of Japanese and Singaporean) Chai Wu, Eddie Lim, chased after me trying to herd me to the exit.
I had in fact been dining in Chai Wu until a few moments earlier. The thing with department store restaurants is that they close when the store does, in this case 8pm, so only 30 minutes into our meal, before the second course arrived we were being told that the kitchen would be closing in 10 minutes so to order up. I panicked and almost ordered extra under the pressure. Should you find yourself in Chai Wu in this position, be careful. Any sudden panic ordering could set you back a small fortune.
With the signature crispy duck coming in at £42 for a half and the dim sum selection of 5 or 6 pieces a whopping £32, you would be well advised to return any recent purchases before dining. You'll need that money for the water.
Or just get yourself a cocktail instead of water. Not much more expensive and infinitely more exciting. The Chai Wu martini with lychee and chilli was really rather good and has the added bonus of making you less worried about the money you are spending. The food is perfectly nice, but nothing special, the service is a little overbearing and the tables are far too small.
The aforementioned crispy duck and pancakes come to you with a variety of sauces – from hoisin to plum via some crushed garlic and spicy sauce – and is cut at the table by a lady wearing bright blue latex gloves. I'm all for hygiene but the addition of the gloves feels a tad NHS. I'd rather be left alone with some utensils and frankly my hands to pull the thing apart. It would probably be faster too. The duck is good and comes with more actual flesh than you often find in similar dishes but the accompanying cucumber and spring onion portion is rather mean – more of a decorative flourish than meal component.
The dim sum arrived adorned with everything from white truffle to gold leaf. Fancy. The little parcels are all enjoyable enough, but for £32 I would hope for more. Actually more, as in 15 pieces and also more flavour. Expensive ingredients don't always translate to wonderful flavours and pork would give more punch than scallop in a light dumpling.
In our 'the kitchen is closing' panic we ordered a melting chocolate sphere for pudding. While eating it I sang the Milky Bar kid song. A hollow sphere of chocolate, filled with vanilla ice-cream is brought to the table along with a hot sauce – in this case white chocolate, hence the Milky Bar feeling – which is poured over the top. The sphere collapses. Suddenly the beautiful pudding looks like it has been made by an exuberant toddler. I quite enjoyed the mess. Despite what your parents say playing with your food IS good.
I can see that Chai Wu will do very well during the day with the well heeled, well shopped cliental of Harrods, however, for those looking for a little more value for money and a dinner venue where you can linger over your dumplings without fear of being locked in a very confusing, golden labyrinth, there are probably better options.