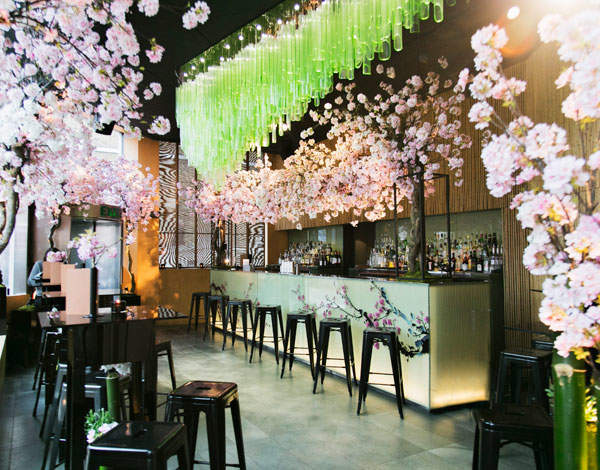 Cherry-blossom time is cheery time: the delicate petals appear on trees from Tokyo to Chelsea and the world celebrates the return of spring. Sakura (cherry blossom in Japanese) is also associated with the transience of life, which doesn't quite fit with the everlasting artificial cherry-blossoming branches perched atop the entrance to Sake No Hana on St James's, where the Sakura pop-up currently resides.
Still. Until 19 May, Sakura is offering a cherry-themed menu which I sampled recently, and if life is indeed transient, it's worth spending one evening of yours on this food.
The main event is a double-layer bento box (£28): miso soup starter, seven-spice chicken kuwayaki and spring salad with sesame dressing, salmon avocado, spicy tuna and California rolls and chu-toro and salmon sashimi. Sake No Hana has always offered excellent sushi at extraordinary prices, so a well-thought-out more affordable menu is welcome. The sushi is so fresh you can almost hear the blade coming down, or potentially that *is* the blade coming down in the kitchen upstairs.
You can also have a Hanami Bellini (sparkling sake, Luxardo cherry liqueur, Heering cherry liqueur, lime, Tanqueray gin) or a Sakuratini (Maraschino cherry liqueur, sake, vodka, Cointreau, cranberry juice, lime, orange bitters) for £10 each. Both are a little too redolent of pot pourri, but essence of cherry blossom is like that.
Desserts work well because the cherry flavour assimilates more naturally into sweet foods. The vanilla macarons with cherry-blossom-tea ganache (£1.60 each) are as chewy as any you'll find at Laduree and the Sakura palet d'or (£8), a hunk of cherry-chocolate dessert with fresh cherries, nashi pear, almonds and ginger, and cherry blossom tea ice-cream, is guiltily good.
Sakura at Sake No Hana is at 23 St James's Street until 19 May