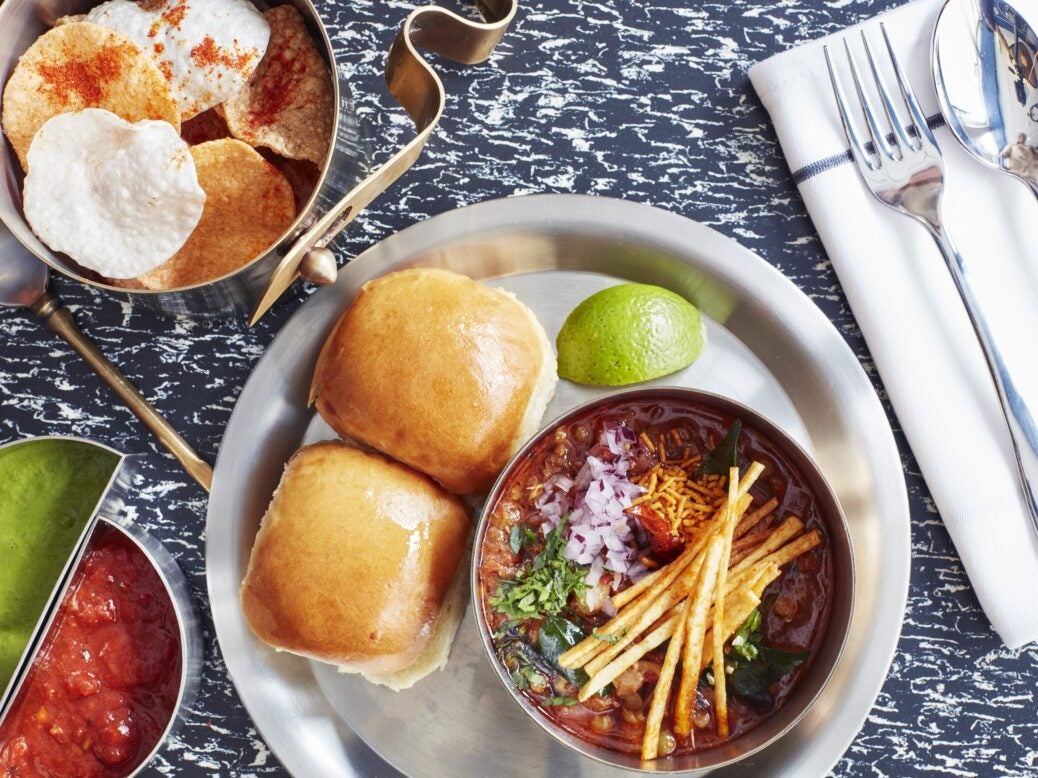 Spear's tour of Mayfair's top Indian restaurants continues with a trip to Bombay Bustle a journey through Indian food inspired by the tiffin pot bearing Dabbawalas of Mumbai
There's plenty of choice in Mayfair for those looking for a spicy food and a warm welcome in W1. Spear's has been to both ends of spectrum over the last few weeks. At Indian Accent we found a restaurant moving South Asian ingredients the furthest possible distance from the British idea of 'curry' possible; while down the road at Matsya it's quite the opposite.
Bombay Bustle sits between them both, albeit a little closer to the spice, rice, naan and life story of Matsya, and Indian food in the UK. Our imaginary train journey from Mayfair into the heart of India starts, as so many great things do, with champagne and samosas. My guest enjoyed a crisp vegetarian Punjabi samosa with mint dunking dip while I took its lovingly garlicky lamb a chilli chutney cousin. The 2015 MacMurray Sonoma Central Coast Pinot Noir, from the US might at first seem like an unusual choice but the acidity note sang alongside the lamb mince.
The Tandoori Chicken was as expected, tender, deep and rich with a rich hint of cardamom. But, for me, it's a little too similar to the main Chicken Tikka Makhani dish which lacks the expected kick and has the feel of a curry of trying to please that difficult Mayfair diner who 'doesn't really like curry'.
However, the wine once again is exceptionally paired and the 2012 Tempranillo Rioja Reserva from Bilbao and the Dabha Dal, Gobbi Mutter, rice and naan give the main course that feast feeling that's missing from so many of London's newest Indian restaurants.
We finish where we started with a samosa – this time filled with runny chocolate – the Indian version of a deep fat fried Mars bar, and another glass of Churchill's Late Bottled Vintage Port, from Portugal.
A table of Liberty bag laden ladies at our neighbouring booth waxed lyrical on the wine and the lamb biryani pairing. One of their number insisting on another portion to take home to her presumably envious husband.
Bombay Bustle will thrive this Christmas as shoppers seek a palatable winter warmer without much of the fuss of most Mayfair haunts. A purist might seek something will a little more kick but if you're after a little spice after you shop in W1, Bombay Bustle is the place for you.